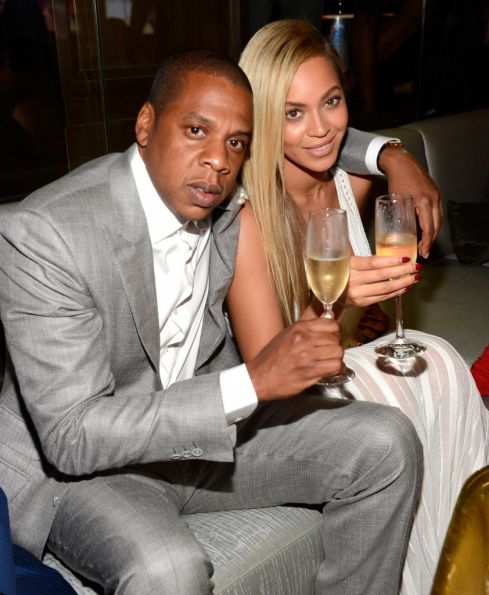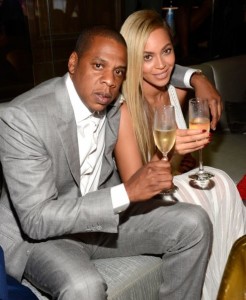 Photo by Kevin Mazur/WireImage
written by Breon Robinson
Last night was an amazing event and many of Jay-Z's celebrity friends showed up to celebrate a decade in business. Attendees included T.I., his wife Tameka "Tiny" Cottle, Kylie Minogue, Victor Cruz, Jessica Sanchez,Angie Martinez, Kaye Fox, Ravaugh, Vinny, Maxwell, and Adrienne Bailon. Several party goers said it felt surreal that it's been 10 years since Jay-Z opened the velvet ropes of his 40/40 Club in New York City. Jay-Z graced the red carpet wearing a well-tailored silver-grey suit and buttoned-up white shirt and greeted everyone; his dapper outfit perfectly complemented Mrs. Carter's. Beyonce was spotted wearing a long white gown with cutouts to emphasis her curves from Roberto Cavalli, a simple gold cross chain necklace, and a golden clutch. Her barely-there make-up game just emphasized how beautiful Queen Bey truly is.
Guests arrived with the suit and tie mentality and all were dressed to impress. Well-dressed couples Amar'e Stoudemire and his wife Alexis, Victor Cruz and his fiancée Elaina Watley along with, T.I. and Tiny, Fabolous and his girlfriend Emily B. The affair was also filled with athletes such as New York Yankees' Robinson Cano, New York Giants' Victor Cruz and New York Jets' Geno Smith. People laughed, danced, and reminisced about their great experiences at the 40/40 club. The DJs Big Jeff and First Choice rocked the tunes throughout the night.
What a great start to the summer for Jay-Z, who recently announced his new album Magna Carta Holy Grail would drop this summer on July 4th, with early downloads available for some one million Samsung Galaxy users. The album itself will feature possible collaborations with Swizz Beats, Timbaland, and Trey Songz.
Fuzion Photos by TammyB