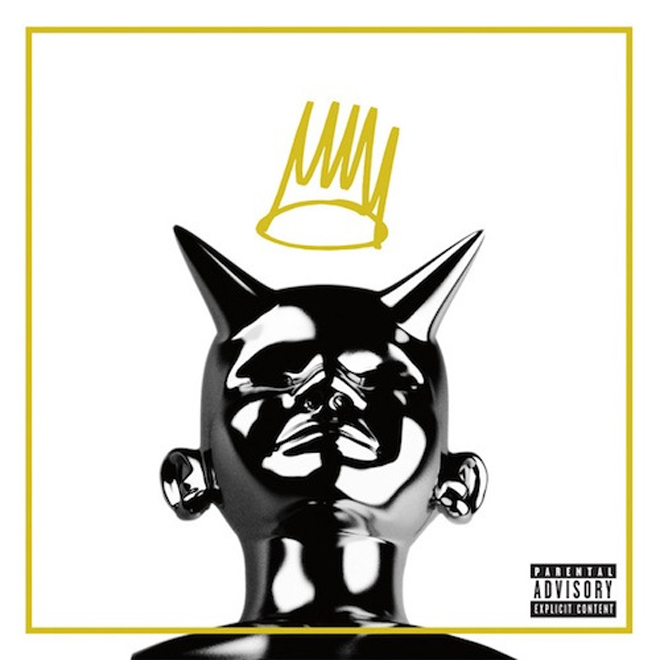 by Angel Fraden
Rapper-producer J. Cole, born Jermaine Lamarr Cole on an army base in Frankfurt, Germany, kicks off his much anticipated, sophomore album with the words: "It's way darker this time." But the record, coined Born Sinner after recycled lyrics from Notorious B.I.G., can be more accurately described as muddled, indistinguishable, and disorienting. The album is constructed in a similar manner to that of a middle school art project: collaged, dissonant, abstracted from already established hip hop expressions. This, however, is not to detract from J. Cole as an artist. He succeeds in developing a niche partition of progressive, contemporary hip hop that captures old school R&B with new school production techniques. It looks good on paper. It even sounds fairly enjoyable the first time around. Yet, as J. Cole pays homage to legendary rap and hip hop icons (writing verses like "2Pac was like Jesus, Nas wrote the Bible"), he fails to establish himself as an artist who could one day attain the same kind of infamy.
The album's opener, "Villuminati", is layered and disparate, like oil above water. A languid, orchestral melody navigates through drum and bass, half-hearted original rhymes, and an indisputably savvy sample of Biggie Smalls' "Juicy." For all its eccentricities, though, the track is evocative, sultry, and surprisingly worldly. The next obvious standout on Born Sinner is the single "Power Trip" accompanied by vocal powerhouse Miguel. J. Cole also enlisted the help of saxophonist/flutist Hubert Laws to write the wispy melody that casts the mold for the beat. The song's strength lies in its inherent contrast: flutes against warbling bass, falsetto choruses set against growly verses. It's a well-executed fusion, high energy while still retaining the qualities of a slow jam, illustrating the duality of intimacy— both tender and visceral.
As a general rule, when the production value of a song is noticeably exceptional, J. Cole's lyrical content ends up suffering. His lyrical prowess is instead highlighted by short interludes between songs that are supported by simple, sophisticated beats. Styles and inspirations are varied and disparate but there is no real cohesion between the individual tracks. Nothing lasting or expansive is delivered. Instead the record comes off as a sloppy cut-and-paste job, several moments of Born Sinner resembling mere reiterations of what listeners have already been exposed to. Kanye. Drake. 2Pac. Frank Ocean. Nas. Biggie. Listen closely and they're all there, but completely incapable of achieving the same legitimacy.
Midway through the record, however, J. Cole introduces "She Knows", which might be the closest thing to aesthetic truthfulness that he achieves on Born Sinner. Sampling gratuitously from New York City indie pop outfit Cults' "Bad Things", the rapper collaborates with the band's vocalist Amber Coffman to re-examine experimentalism in hip hop. It's the only track that sounds as if J. Cole was not trying to intimate someone else, taking the form of EDM over rap. Kendrick Lamar's feature on "Forbidden Fruit" solidifies the album as mature while simultaneously devaluing J. Cole's own musical talent. With great ease and indisputable confidence, Kendrick establishes what it means to a distinguished rapper. Something that J. Cole, despite his notable, valiant attempt, has yet to understand.