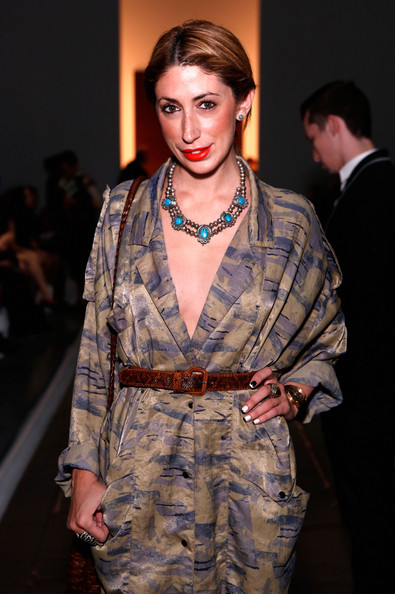 written by Palak Patel
Renowned stylist and fashionista Lauren Rae Levy is known for her work as a consultant. Though she is young, Levy has been in the fashion industry for 13 years and she is far from leaving it. Her New York-based consulting firm, The LRL Group, is unprecedented in that it provides services under styling, retail, image consulting, branding, and more. Her focus is on education more than style domination; Levy takes on clients for three months, during which she provides them with the tools they need to style themselves long after she leaves them.
Levy is different from many stylists because she does not consider style to be set in stone. Her view on style gives her a unique insight when it comes to styling her clients. It is important to Lauren to provide her clients with the tools they need to style themselves instead of just having her do all of the work. "A lot of stylists dress their clients in a similar way to how they dress, that's not me," said Levy. "I work with any age, any size, and any gender. Who are you on the inside, what your brand is, what are your likes and dislikes, and what the event is, I take these things into mind. To me I think your best accessory is your confidence and the thing for me is to make sure not only my client looks fabulous but feels fabulous." Lauren wants to give her clients the expertise they need to put together a look in which they feel confident.
Lauren takes a different approach to fashion and styling than many other people in the industry. Instead of being affected by external pressures, Levy takes her ideas from herself. "I've never been a trend-follower, I've been considered a trendsetter, but I would never classify myself as one. I just kind of march to the beat of my own drum," stated Levy.  Lauren has plenty of first-hand experience with fashion from around the world. Levy grew up in show business and even has a degree in musical theater. "I'm a huge music appreciator, and that's why I love wearing rock concert tees," said Levy. "That's why I lived in Europe, because I was touring and doing musical theater when I was 15. Because of that, I had the privilege to travel to a lot of different places and experience a lot of different things." Her love of travel has translated into her work today: "I travel a lot, all over the globe. I've spent time in Paris, and Milan, and Hong Kong. When you travel the world, you really see the style is just different wherever you go."
Her past has provided Lauren with a unique world-view when it comes to fashion.  "The funny thing about clothing is whether you're into fashion or not, people have to get dressed every day," stated Levy. "And when you meet people, they judge you and make the first impression. When I meet somebody I like their first impression to be of me, really me. I think people are really getting into the difference between style and fashion. My purpose is to help educate people and let them wear whatever they want. I think that is the big difference between fashion and style. The rules don't apply with style." Lauren will continue to show that difference within her work as a stylist. She will continue to march to the beat of her own drum.