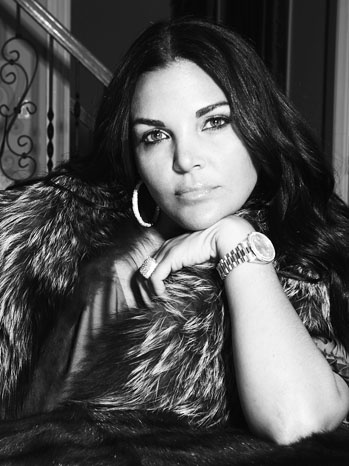 written by Palak Patel
It's not news to learn that getting into the television industry is difficult, but many of us don't realize the true anomaly of a woman starting from the bottom and working her way up to the top. Jennifer Graziano is one of those women. Many will know her from her work with her production company, JustJenn Productions, which handles the reality shows under The Weinstein Company. One of those shows, Mob Wives, stars her sister Renee Graziano. Jenn is just as lively and fun as her sister, with a smile on her face, Jenn is prepared to face the day.
Jenn didn't really plan to go into television: "I used to be in music. I wrote a few scripts for a few TV shows, and what happened was one of them kind of morphed into a reality TV show. The scripted show was basically about my life and the friends I have around me and then I realized that I have the cast under my nose. So I said let's make it reality." The transition was seamless for Jenn and it paid off because now her reality shows are among the most watched every week.
With everything Jenn has been doing over the years, it is surprising that she feels she hasn't experienced any major hardships in her career. "I've been pretty lucky you know," laughed Graziano. "I work hard. And I studied for a really long time, you know, I studied for 21 years and I have my masters degree. There haven't been too many hardships." Jenn likes to take a positive outlook on her life and career and it seems to be working quite well for her.
Jenn has transformed into a brand she can be proud of. Her career moves have been flawless and she looks to her education as a strong foundation for her success. When asked for advice for young women looking to go in the same career path as her Jenn said, "Go to school, Get your education. Get your masters, don't let anybody tell you you can't do it." It's this same advice that led Jenn to the success of each of her shows.
But if she wasn't doing JustJenn Productions, Graziano said "I would probably still be in either marketing or in music." And it's those music roots that make her so excited for her upcoming ventures in JustJenn Productions. "I have Nicki Valentine, she's a recording artist and one of the first recording artists under the JustJenn Label, so I'm going back to my roots in music," said Graziano. "And then we have season 4 of Mob Wives and another season of Miami Monkey in production." Jenn hinted at some new ideas in the works for JustJenn Productions, as well, so we should all be looking out for more quality work from JustJenn Productions.