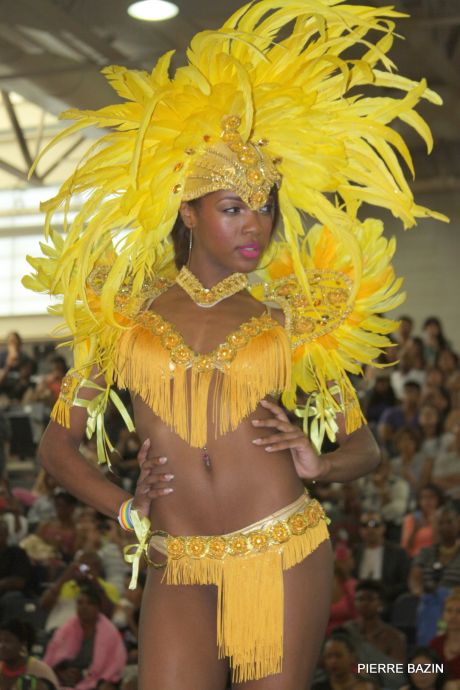 By Palak Patel
Photos by Pierre Bazin
Fashion on the Hudson is a yearly event that showcases a variety of designers and their work in a mind-blowing fashion show sure to please any fashionista. This year marked fifth year of FOTH and was no less amazing than from years past.
The event this year showcased the works of various designers from all over the world, each designer bringing their own unique perspective and creativity to fashion design and style. The designers included Princess Jenkins, Jannis D'Alessandri, Antwan Byrd, Franklin Rowe, Peter Giscombe, and many more.
Richard Q is a fashion veteran who has been in the business for about 30 years. He worked for years with patterns and design before deciding to go freelance to pursue his own calling as a designer. He takes inspiration for the FOTH show from the Hollywood glamour girls of the 40s, 50s, and 60s. "I make them contemporary for the girls for now," said Richard Q. "I make things that are sexy, soft, and seductive, with a touch of sophistication." His show featured "sexy Brazilian music for the girls to walk to and for the audience to enjoy."
Marli Thomas, of Marlene H'Couture, is another fashion vet who joined in on the show. "It's the Gatsby lady collection," said Marli about her designs for FOTH. "We will see very soft, romantic lines. I'm known for softness. I love working with chiffons, tulles, and lots of intense handwork and beadwork." The designs featured colors of black and deep purples, with pink accents. Marli also showed two wedding dresses at the show. She spoke of coming up with the "Gatsby theme" while in Italy for work last year. Marli is originally from South Africa.
Joining Marli Thomas was handbag designer Jannis D'Alessandri. Her custom work is all handmade and a part of the Sarabella James line. "I see a beautiful piece of fabric, or leather, and work from there. I never know what the bag is going to look like from start to finish," said D'Alessandri. "They are all handmade and I'm very proud of them."
Deborah Cooper of Miss Dee's Couture came up from Virginia to show her designs. Miss Dee showcased men's, women's, and children's fashion. "My designs today were to show all walks of life," said Miss Dee. "I'm going right in from swim wear to casual to couture." The Virginia designer was especially excited about showing the designs featured on her 5-year-old model.
Vera Moore is not a fashion designer, but she still very much belongs at FOTH. Vera Moore is the founder of Vera Moore Cosmetics, known for being one of the most progressive and prestigious cosmetic and skincare lines for the ethnic market. "We are 33-years-young, a family business and going strong," said Moore. "I saw there was a void in the market for ethnic products and that segway-ed into Vera Moore Cosmetics." The company provided make-up to many of the models for FOTH.
Jasmin King, of Jasmin Made to Order, took her love of fashion design and created a brand for herself, enough so to present her unique designs at FOTH. "I got my inspiration from when I was a kid," said Jasmin. "We are doing casual, and in-between styles, and finally couture." Jasmin's favorite piece she presented at the show was a white dress.
Antwan Byrd, creator of DeBrichhio, came to New York from Baltimore to showcase his designs. "It is pretty much a really fun collection I wanted to do for women," said Byrd. "It's going to take them from the day, going to work, to getting off of work to happy hour and having dinner. Fun day dresses, cute cocktail dresses, even some pants. It's for the working woman who also has a social life." Antwan said his designs evolved from a particular shoe and that he wanted to explore the woman who wears that one shoe. His designs featured brighter colors like canary yellow and corals.
Bobby Lewis came up from the Virgin Islands to showcase her swimsuit designs that were meant to "show off the beauty of the Caribbean." The designs featured four sections: "euphoria, radiant, rapture, and serenity. They all came from euphoria and are meant to be seen as one unit."
Ola Raphael displayed a collection featuring only menswear. He used his culture from Lagos, Nigeria to influence his designs, working to create a "mixture of Africa and the west." Ola Raphael has his studio in Maryland and came to New York to display his collection. "I'm doing my summer/spring collection," said Raphael. "It features funky casual to classic casual styles. It's a mixture of various fabrics and colors."
Franklin Rowe showed his designs off at the FOTH event as well. Working in fashion for most of his life, Rowe said his designs feature leather, silk, and sequins. "I'm influenced by European and Asian fashion more than American," said Rowe. "I've been in business a long time and like sculpture. I'm inspired by sculpture."
Coming up from Jamaica to showcase his swimwear was Peter Giscombe. "My design is more like I'm trying to bring fashion to the runway," said Giscombe. "My bathing suits are unique and you've never seen anything like it." Peter also designs hats and t-shirts, but his focus is on bathing suits and hats.
Princess Jenkins comes straight from Harlem to show-off her signature collection "The Brownstone Woman," named after her retail stores Brownstone. "We dress women for the special moments in their lives," said Jenkins. "I dress the fuller-figured girl, basically from a size 12 and up. I know she wants to look fabulous and wear things that fit and flatter her figure but also give a statement dressing."
The many designers who let their pieces take the stage had plenty to be proud of at the FOTH V event. The show was exciting and full of trademark fashions, something you didn't want to miss.