Written By: Anita Nichole Lewis
Falguni and Shane Peacock placed us under a spell, for the 5th year in a row, as they brought drama to the runway this season. They awed everyone with their  futuristic tone and distinct designs, which consisted of layers of mesh & lace, deep hues and intricate beading. Golden metal leg harnesses, studded waist bands, crop tops and bottoms, mesh sleeves, metallic details, nude illusions, quilted detailing, asymmetrical hems were all present on the runway. When the music started, the breakthrough of energy was surreal as the models graced the runway with Falguni and Shane's freedom of style.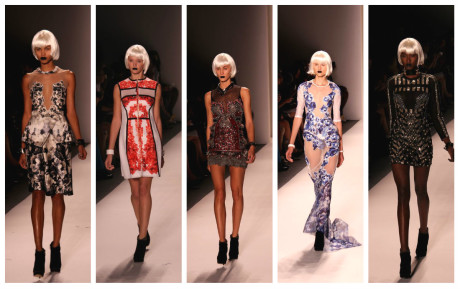 The models rocked platinum wigs and dark lipstick giving us the edge we needed to peer into the future.  The runway was drenched in trench coats, floor length gowns, feather accents, embellished body conscious dresses and mesh gowns with glimmering metallics. Styled by Laura Duncan and with Kryolan's professional make-up, Falguni and Shane Peacock have taken runway trends to the next level. Using songs such as "Rugged Ruff" by Bahamadia, Vinny Van Deilen's music selections consisted of techno-hip-hop beats which resonated throughout the room and enhanced the new found illumination.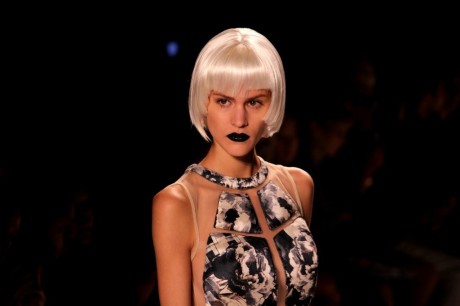 Front Row was star-studded with celebrities and style icons such as Paris Hilton, Guiliana Rancic, Bridget Kelly, Jeannie Mai, Mohammed Al Turki, Jennifer Williams and Kimberly Gideon! Guiliana mentioned that the show was absolutely fabulous and Jennifer Williams said, "I really enjoyed the presentation, this show was amazing." This season Falguni and Shane Peacock remained true to creating their own set of rules with their collection and were once again successful in captivating our minds while giving us new styles to brag about!