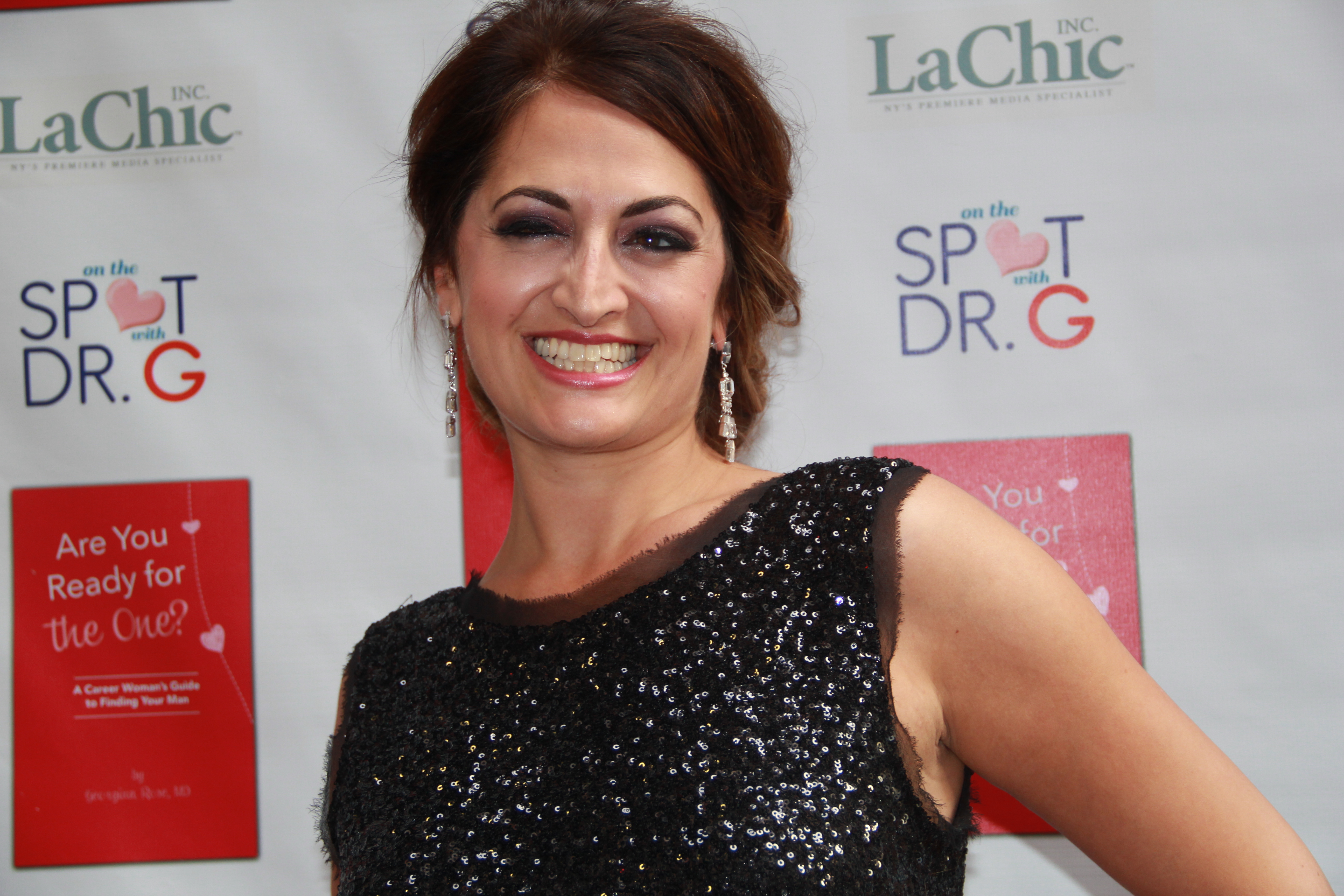 Dr. Georgina Rose is fanning out from her internal medicine career and turning her book Are You Ready for the One?" into a reality talk-show, the pilot of which was filmed with a live audience at The Cutting Room on Monday night. The show, called On the Spot with Dr. G, will focus on love and relationships, lightened up with some humor.
"My idea is to get to know comedians and famous people and get to know their personal lives and also give advice on relationships and bring the book more to life," said Dr. G.
Joining Dr. G on her pilot was comedian Elon Gold, who is better known for being a celebrity judge on The Next Big Thing and primetime shows Stacked and In-Laws. Gold offered some of his own insights into marriage, love, sex, and relationships to Dr. G and the live audience during the pilot taping.
"I don't claim to be an expert, I'm just a married guy who has some, I guess, experience and advice," said Gold. "It should be funny and exciting!"
Also joining Dr. G on the red carpet was her new stylist, Shelly Bromfeld. Bromfield is known for having worked with Donna Karan and personally styling various celebs over the course of her career. She is currently working on launching her own brand and says she gets "inspired by shopping and other designers."
Psychic Janet Russell was also present on the red carpet. She is known for being a part of Haunted NY, Beyond the Unexplained, and A&E's Paranormal State.  Russell is currently working on trying to launch her own reality television show. She didn't provide any reading or psychic show during the pilot filming, but she did offer her own insights to many who were on the red carpet before the show.
Designer Autumn Hawk also attended the red carpet event. Her clothes are known in the New York City area, specifically with the Real Housewives of New York. Hawk's designs are often featured on the Bravo website and many Real Housewives wear her clothing, with one of her designs being worn on the most recent episode of Real Housewives. Hawk brought along model Shannon Rusboldt, who Hawk claims will be the new face of her next line.
A newer face to the red carpet was Dr. Robert Morin, a plastic surgeon who specializes in aesthetic, pediatric, and craniofacial. Dr. Morin was there to offer support to Dr. G and to try to promote his own work as a plastic surgeon. He is currently working on starting up a non-profit organization to help children with facial abnormalities in some of the less fortunate parts of the world.
"Basically I want to promote our charity, the goal is to operate on children with facial abnormalities in developing countries," said Dr. Morin. "We are starting with a trip to Armenia, Colombia, at some point in 2014. We will have our first charity event in October."
One notable star on the red carpet was Samantha Karlin, notable actress, singer, television host, and dating expert. Karlin expressed interest in the show because "this is kind of in my industry and we are kind of in the same type of field." She has a book coming out in 2015 about dating in New York.
"The book is basically a compilations of all the different articles I've written and funny stories about dating in New York and the crazy stuff that happens," said Karlin. "People you meet, horrible online dates, and I'm kind of taking those hilarious stories and I'm merging them into actual practical advice for the New York City dater."