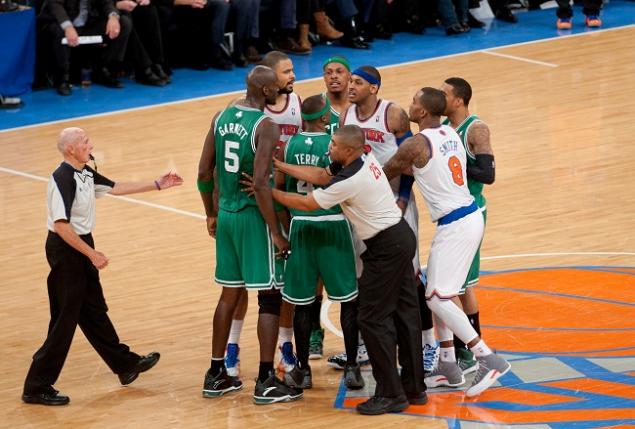 Carmelo Anthony lost his cool after a Knicks and Celtics game Monday night at Madison Square Garden.  Allegedly Garnett taunted Carmelo during the game saying that his wife (Lala Anthony) tastes like honey nut cheerios.  According to TMZ,  Melo said that he was insulted after Kevin Garnett made those comments and that he "crossed the line". However, no one can exactly confirm what Garnett said to set Melo off. There are rumors swirling that Melo was infuriated because he and his wife Lala are estranged and living apart.
The trash talking resulted in Melo approaching the Celtics player after the game where the two nearly came to blows. TMZ has a video of the two in a shouting match after the game,  which shows the NYPD, Madison Square Garden Security and the  Knicks' coach Mike Woodson trying to diffuse the situation before it spiraled out of control.  Carmelo released a statement explaining why he approached Garnett after the game, "My mindset and motive of going back there to see him at the locker room and seeing him at the bus, I wanted to have a one-on-one conversation with him and talk about it like two grown men,".
He also says that he doesn't see the reasoning behind why he was suspended.  He also says that he wanted to speak to K.G. to figure out what was the real problem behind their argument.  According to TMZ, Carmelo will be serving his suspension on January 10th when the Knicks play the Pacers.
Photo Courtesy of the New York Daily News