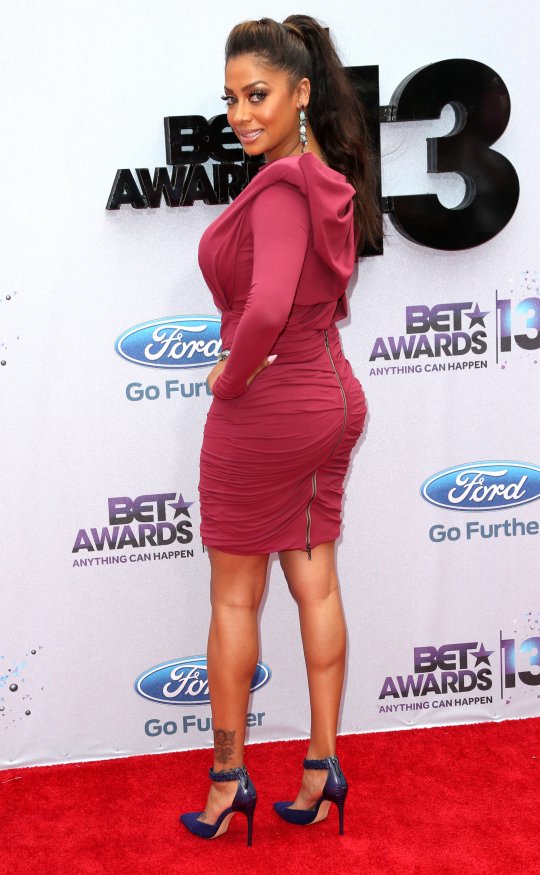 The red carpet was rolled out once again for the BET Awards on Sunday night in Los Angeles. Stars tried to dress their very best in celebration of the event, but some people just missed the mark completely with their outfits and styling. Fuzion Magazine has some of the best and worst fashions of the BET Awards, all for your viewing pleasure.
Worst: La La Anthony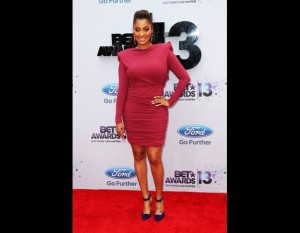 La La Anthony's curve-hugging Lanvin dress was a little too bland for the red carpet. The color was boring on her skin tone and her sky-high cobalt heels worked double time to show off her legs and add more color to her outfit. Add in the odd ruching and the sharp-looking shoulder pads, and La La has an outfit that was more "blah" than anything else.
Best: Kat Graham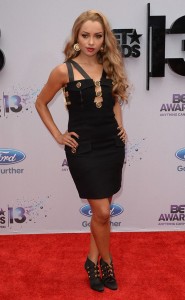 Vampire Diaries star and singer Kat Graham graced the red carpet in a gorgeous black Versace dress and new blonde hair.  The gold accent buttons were daring, but Kat pulled it off with sophistication and style.
Worst: Angela Simmons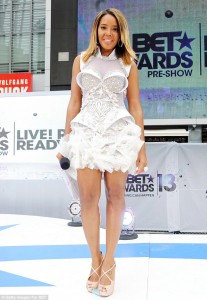 Angela Simmons went daring with her red carpet look tonight, but in her rush to be fabulous, she went a little too far. The color was spot-on for the inadvertent theme of the night and the high neckline is very popular these days. However, the weird cones around her chest are reminiscent of Madonna circa her 1990 Blond Ambition tour. Sadly, this potentially amazing dress was just weighed down by too much added bling and pizazz to be put on the "Best" list. Between the peplum style, the feathery-tulle skirt, and the sheer cutouts, we lost Angela.  Her styling was amazing, though.
Best: Michelle Williams
As for somebody who did the white dress correctly on the red carpet, we have Michelle Williams. Former Destiny's Child member didn't even falter on the red carpet. Her dress featured a deep plunge and high slit in the front for major sex appeal that didn't go too far. The layered peplum around her hips really accentuated Michelle's perfect figure and the belt brought the eyes straight to her narrow waist. Loose curls and retro triangle earrings finished up the look which was perfect for carpet.
Best: Paula Patton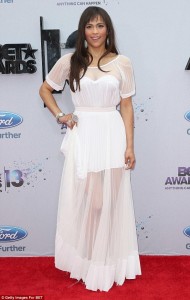 Another white dress filled with subtle sexuality, actress Paula Patton walked the red carpet in a white Max Azria gown with her husband, singer Robin Thicke, who performed his new song "Blurred Lines" at the award show that night. Paula's sheer sleeves and skirt over the solid white mini really accentuated her figure and showed up many of the other white ensembles of the night.
Best: Ciara

Oh, Ciara, how lovely you are. Ciara broke the white-wardrobed mold with her daring two-piece black leather outfit, paired with those trendy silver pumps. The R&B star was filled with confidence as she bared her fit body for all to see on the red carpet. It seems Ciara can do no wrong right now. Her wrists and fingers were covered in silver bling, which just made her look even better.
Worst: Miguel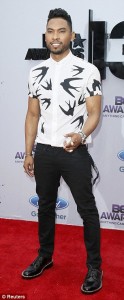 While not a terrible outfit, Miguel definitely didn't want to impress anybody on the red carpet. The singer/songwriter dared to drift below the radar by wearing a graphic tee featuring abstract black birds, black jeans, and studded black boots. Sorry, Miguel, but this red carpet demands more.