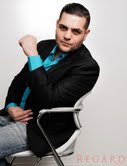 It's always a nice experience to see somebody come up from the bottom and create a name and brand for himself. Michael Costello, fashion designer extraordinaire, is a success story like none other. Even though he has been in the industry for some time now, it was not until Michael's experience on season 8 of Project Runway that he really gained notoriety. He was so spectacular on there that they even brought him back for Project Runway All-Stars, where he finished as a finalist.
One of the great things about Michael is his unique background that plays such an important role in his designs. "I am a gypsy fashion designer, who may not always be accepted in pop culture but that is who I am," stated Costello.  "Being a Greek and Italian descent, my heritage certainly has played a role in making me the designer who I am." He doesn't let anybody else judge him negatively for his heritage and, honestly, his brand is so prolific it's impossible to say anything other than positive reviews.  It is easy to see how Michael's background has played into his own design aesthetic. "I love resort wear; I love flowy pieces," stated Costello. "So I would have to say my design esthetic would be effortless chic, drapery, simplistic looks with a bit of drama."
Fashion has always played an important role in Michael's life. From a young age he can remember being inspired by his life and creating beautiful designs. "I can remember being as young as 1 or 2 years old always drawing girls, models, stick figures with dresses on," remarked Costello.  "My mom recognized it as well. She will tell you at 2 years old I would draw on the walls and she thought they were beautiful and so never washed them away." Michael is lucky to have had such supportive family members to back him up for all of these years.
Michael Costello is known to the public as one of the best designers on Project Runway and was such a fan favorite they brought him back for Project Runway All-Stars. He recounts the team challenge from season 8 as one of his worst experiences on the show. "It's not that I don't work well with others, but I believe others don't understand my way of creating and sewing that they find themselves in unfamiliar territory," stated Costello. "I have devised a way of sewing that benefits myself and my clientele." Michael made it through the group challenge, and many others on the show, to experience his best moment on the show. "My best experience was going home and creating a collection for Mercedes-Benz Fashion Week," said Costello. "Even though I did not get to show it, the experience was unforgettable. So my best experience was my elimination episode." Disappointing as it was to be eliminated, Michael made the most of Project Runway and was eventually able to start his own line.
Every collection Michael puts out is better than the last. Michael is very excited for his upcoming projects and an exciting new venture. "We debut the menswear collection in March at LA Fashion week," stated Costello. "It's called MT Costello and the MT Costello man is a New York/LA hipster-type of guy. We actually named him Trey Davenport; he's a model, a very big endowment who loves to sleep with women and may have a taste for men every once in a while. He has hands in everything from real estate to Wall Street and enjoys fashion."  Look out for Michael Costello showing his couture collection in New York at Uptown Fashion Week. "All the pieces are handmade and sewn, not one was touched by any form of sewing machine," mentioned Costello. MT Costello and Michael Costello will also be at Portland Fashion Week (Fashion NEXT).
Michael's attention to detail and love of fashion will continue to break barriers in the fashion industry. His unique point of view and quirky sense of style is obviously a new must-have staple for any fashionista. Everything about Michael screams fashion; if Project Runway hadn't shot him to stardom there is no doubt he would have done it on his own. We all look forward to any Michael Costello fashion show and wish him the best of luck for the upcoming shows.