This is one of the most beautiful times in tinseltown. Award ceremonies are gracing our televisions with celebrities receiving their recognition for their outstanding performances in both the Big and small screens. The 18th Annual SAG Awards took charge last night in Hollywood  bringing out the best of the best.
Viola Davis of the "The Help" conquered the  Best Actress award and she was even up against the very talented Meryl Streep who was nominated for "Iron Lady" which is the biopic of the British Prime Minister Margaret Thatcher. Davis gave honor to Meryl Streep during her speech for inspiring her to become an actress and she  also paid respects to the legendary Cicely Tyson who also played in "The Help".  Bravo Ms. Davis!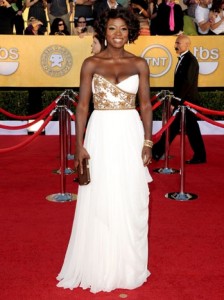 HBOs' "Boardwalk Empire" was amongst theother big wins. The show took home two honors. Steve Buscemi ,who is known for his funny man roles in the  adam Sandler's Happy Madison Productions , walked away with an "Outstanding performance by male in a drama series". Steve's transformation from funny man to drama king is one the best times in Hollywood I look forward to. Congratulations Steve! See Fuzion for 5.0 for the "WOWs" and "OH NO!" SAG Award edition. You don't want to miss this..
Photo credit: Getty Images