Don't be afraid to add bright palettes to your wardrobe this season. Fuzion caught up with a few NYC fashionista's with bold pants done right.
This lovely lady made  bright royal blue pants  look classic with a creme top to mellow out her look. That cheetah printed scarf definitely caught our eye.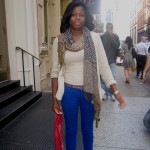 This city-goer's  70's rocker inspired look was a striking move. She  turned heads in yellow creased sunglasses and bold tangerine bottoms. We definitely digged her "Rolling Stones" vibe.