Is it a Mule? A Wedge? …Its A Rosette Mule Wedge?
Take your mixing bowl and combine a wedge heel, a mule, the movie Pretty in Pink, and a 1980's prom dress. What you get is a shoe with not only an identity crisis, but also a quality similar to the Treasure Trolls of yester-year: it's so ugly, it's cute. Don't ask us to make a decision; this jury is just as confused as this shoe. A word of caution: avoid the Queen of Hearts' rose bushes or you might be mistaken for a rose-bush too!
Tickle my toes!

Okay, I loved last season's feather earrings as much as the next gal (if you check out a previous DIY on Fuzion Mag, you can make your own), but shoes that tickle me as I walk are not my friends. These sandals by Promise remind me of the Muppets Treasure Island. If you look closely the ornament looks strikingly similar to the headdresses worn by the native rat muppets in The Muppets Treasure Island movie… Believe me when I tell you, there is nothing fashionable about The Muppets. Funny-yes, fashion-no.
Shoe Interrupted

What can I say? This sandal is clearly inspired by Mary Shelly's tale of Frankenstein. You have a basket weave lower sole attached to a cork upper sole; that is attached to a coral leather balance with coral leather and beige cotton straps. The real kicker: the shoe literally has 'stitches' reminiscent of Frankenstein's monster. Designed by Two Lips and called "Biz Wedge," the only 'business' this sandal is screaming for is the fashion trash compactor…
Crossing Minnie Mouse with Farm-girl Fashion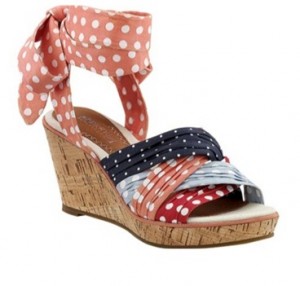 Prairie-inspired fashion has been in for a few seasons; however, looking like a Disney character has not. please do not abuse your feet with these wedge sandals from Sperry's. Red, navy and sky-blue with white polka-dots is just a bad combo. They may be super comfortable, but so are Aerosoles shoes and they are much easier on the eye than these cartoon sandals. Just say, "No," to Minnie Mouse shoes.