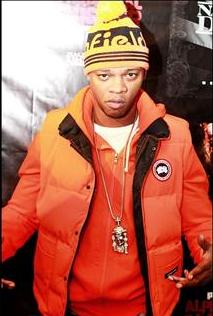 written by Marie Driven

New York, NY—December 6th, 2012—On Tuesday December 4th 2012, Celebrities and Socialites alike partied alongside New York City Prodigal emcee Papoose, as he celebrated the his New mixtape "Most Hated Alive" at Studio XX1 in New York City.
This event was truly a success. Guests sipped on complementary cocktails while HOT 97's DJ's Magic and DJ Chuck Murdock entertained the crowd with old and new records of the guest of honor Papoose.
Celebrity Attendees including * Hip Hop producer and emcee Ron Browz, Vh1 Tough Love Elizabeth Vashisht, Dj Premier, Dj Kay Slay,Prodigy Mobb Deep ,MTV Angelina Jersey shore, Brooklyn 11223 Angelina, Brooklyn 11223 Kelly Linton, VH1's "Saddle Ranch" Nick Frank, Love Games Edson & Casey Cartel, Hot 97 DJ Magic, Hot 97 DJ Juanyto, Hot 97 Drewski, Par-city, MTV Tanyka Renee, Hot 937 Jenny Boom Boom & More
DOWNLOAD:MOST HATED ALIVE
http://www.thisis50.com/profiles/blogs/papoose-most-hated-alive-free-mixtape-download
Photographer : Ronn Oneal &Greatest Entertainment Image:
Vh1 Elizabeth, Papoose,&MTV Angelina
| | | |
| --- | --- | --- |
| Producer& emcee Ron Browz & Papoose |   | MTV Angelina, VH1 Nick,& VH1 Elizabeth |
| | | |
| --- | --- | --- |
| Dj Premier & Dj Kay Slay |   | Vh1 Elizabeth, Ron Browz, & Mtv Angelina |
| | | |
| --- | --- | --- |
| Papoose, Love Games Casey Cartel, & Ron Browz |   | Vh1 Elizabeth, Ron Browz, & Mtv Angelina |
| | | | | |
| --- | --- | --- | --- | --- |
| MarieDriven |   | Hot 97 DJ Magic |   | Chanel, DJMagic, DJ Juanyto |
| | | | | |
| --- | --- | --- | --- | --- |
| Oxygen Kelly Linton |   | MTV Angelina |   | VH1 Elizabeth Vashisht |
| | | |
| --- | --- | --- |
| Vh1 Nick Frank |   | Papoose |
| | | |
| --- | --- | --- |
| Papoose, Friend, & KaySlay |   | |
| | | |
| --- | --- | --- |
| MTV Tanyka, Brooklyn11223 Angelina,& Brooklyn 11223 Kelly Linton |   | Papoose & His Mother |
| | | |
| --- | --- | --- |
| Papoose |   | Oxygen Kelly Linton & Edson |
| | | |
| --- | --- | --- |
| MarieDriven & Dj Premier |   | Mtv Angelia, Vh1 Nick,Vh1 Elizabeth,Oxygen Kelly & Edson |