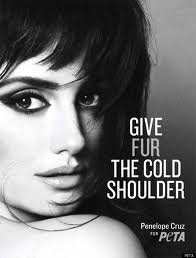 Award winning Hollywood Actress Penelope Cruz, has joined the likes of Khloe Kardashian and Taraji P. Henson in PETA's anti-fur campaign.
"Penelope's passion for cruelty-free fashion goes beyond the red carpet because she knows that fur is never glamorous," Yvonne Taylor, Senior Programme Manager of PETA said. "Penelope Cruz will always take a pass on fur because of the extreme cruelty that fur production causes millions of animals around the world."
The 37-year-old beauty's campaign billboard went up last Wednesday, across the street from Madison Square Garden. The anti-fur billboard is scheduled to be up throughout New York's Fashion Week, February 9-16. Similar campaigns are set to be launched in London as well as Milan.
To join Penelope in her pledge to "Give Fur the Cold Shoulder", check out PETA's website HERE!