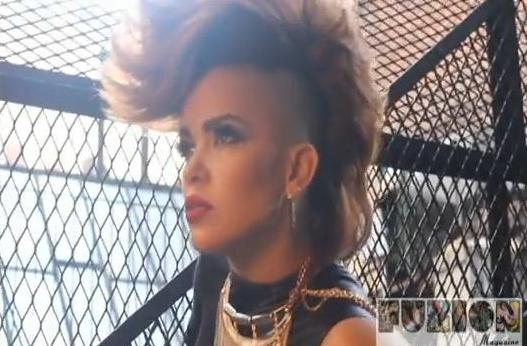 You may know Universal Music Group's (UMG) Eva Simons as UK's freshest singing sensation. This Amsterdam native is breaking into the US music scene, and has recently graced  FUZION Magazine's Music Month issue.
Simons' has a legacy of musical roots in her heritage. She  grew up in a family of musicians, with her father who was a pianist  and mother who was a vocalist . Few may know that renowned Dutch accordionist Johnny Meijer, is her grandfather.  Consequently, she started out playing the piano, where she was classically trained. She was always playing what her teacher wanted her to play.  But after a while Simons stated, "I did not want to play Mozart anymore. I wanted to do my own stuff. This is when I started figuring out what I want."
She is now known for her fresh out-of-the-box approach to music and sound, stating-  "I don't just go working for people because they are dope, I go for sound."Many of Simons' fans love her for her brazen lyrics which evoke a strong sense of unmistakeable authenticity. She always keeps it real  and adds that – "If I don't go through something, I should not be writing about it." Her genuine sense of being translates into her personal style, which includes plenty of black apparel, chains and anything that accentuates her flair.
Simons initially gained notoriety for her song "Silly Boy," which became an internet sensation, producing over 2o million views. Shortly after she signed with UMG's EMI. This international phenomenon just finished her LMFAO tour with rave reviews, where she was the only vocalist in a sea of DJ's.  Look out for her album, which is about to drop this fall and described the process as "awesome."