With all of the touching dedication performances and amazing fashions I  know you guys had to watch the Billboard Music Awards a few days ago. Did you notice the surprisingly repetitive group of colors?
With the warm weather making its mark this weekend, it came of shock seeing so many creams, whites, and tans covering the red carpet. Usually around this time the bright greens, yellows, pinks, and oranges rule the Billboard fashion. I wonder why the more conservative colors are so popular. What do you think it is that is making the stars flock to it?
Wherever the craze is coming from I like it. The nudes seem to make the women look more sophisticated and the men more relaxed. It even made the event seem more upscale.
Some of the showstoppers included Brandy, Monica, and Nelly Furtado who looked classy, cool, and comfortable.
Other eyecatchers included electropop artist Kerli who rocked nude with a twist, wearing pink stockings that made the nude fanatics frown a little.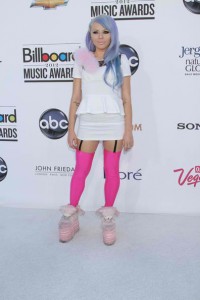 Do you think there are dos and donts when it comes to wearing nude colors?