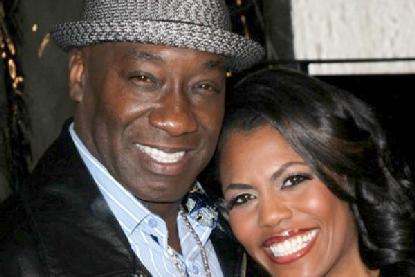 Photo credit:www.eurweb.com
"My heart is shocked and saddened! RIP Micheal Clark Duncan. You were the most gentle giant and the most gracious of a man! You won't be forgotten." Vivica A. Fox
On Monday morning, Academy Award nominee, Michael Clarke Duncan famous for his memorable role in the 1999 film, "The Green Mile," passed away at age 54. Michael's actual cause of death has yet to be announced, but members of his family revealed that the actor had suffered from a myocardial infarction that he never fully recovered from.
Duncan leaves behind his beloved fiancée, Omarosa Manigault-Stallworth, former contestant on "The Apprentice." Now, the two had began dating back in 2010, but funny thing is no one had a clue the two were engaged. According to TMZ, Michael and Omarosa were planning to be hitched this becoming January. The question is why were they hiding it?
Duncan held on these past two months hospitalized with Omarosa by his side. Omarosa has expressed how heartbroken she even after she heroically saved his life by performing CPR the first time he had a heart attack in July. Sadly, Omarosa has to say her goodbyes to the love of her life. His family has not disclosed any information about a funeral arrangements as of yet but surely a great portion of the Hollywood community will be present as they say their final goodbyes to the fallen star.
written by: Janelle Allen