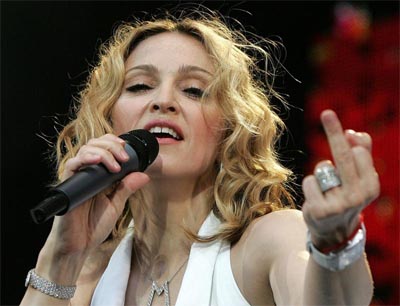 Madonna does it again! Just when the public thought that the pop icon had offered up all the shock factor possible …wrong. This past Sunday the Queen gave a show in France where she used a backdrop video of French leader Marine Le Pen, with a swastika drawn on her forehead.
Apparently, Le Pen had caught wind of the video since the tour started and wanted to see if Madonna would continue on with showing it while performing in her country. She even reached out to warn Madonna not to bring video to France. The French National (French political Party) was outraged that the star was indeed ballsy enough to show the insulting gesture in their country.
This is just one of other mishaps that occurred on this current tour. During a show in Instanbul,Madonna intentionally flashed her nipple to a roaring crowd. Apparently, no one took offense to that.
The French National including some fans are oblivious to the actual meaning of the swastika image but are quite clear on its insinuation. Either way, a law suit is on its merry way with an order of "public insult." Loosely put, Marine Le Pen stated that the 53year old celebrity is simply looking for attention to remain relevant.
Madonna has always been controversial. She was almost arrested for performing Like A Virgin when it was first released. This is nothing new for the star. She has never apologized for her artistic expression and does not intend to start now no matter who hates it. Madonna the Notorious is what fans might rename the Queen of pop and she is definitely going down in history for this one!