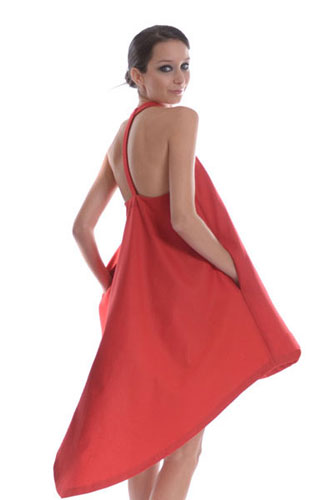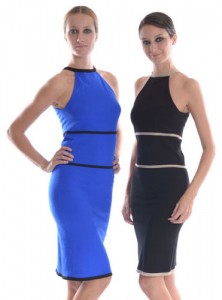 I recently had the opportunity to speak with Mo Hom, CEO and Creative Director of LOTUS HOM, a women's contemporary clothing line.  LOTUS HOM brings timeless silhouettes in feminine, sexy, sophisticated, styles. With her garments and products made solely in New York, it allows the brand to offer the highest quality and exclusivity to it customers. Ms. Hom described her collection as one for a woman who values comfort, with femininity and a bit of edginess combined. She said she puts a lot of effort into making sure "a woman feels confident when wearing her pieces".With that in mind, LOTUS HOM makes use of natural fabrics, with hand woven details. Supple Lambskin is used for its leather garments, which sets the quality bar at its highest. When I noted how many of her pieces had a distinctive draping, Ms. Hom spoke of her native influences; the wrap around designs of national costumes from her native Burma. "I make my pieces in sizes XS-L, and the designs are flattering to all figures. Since it is important for all women to be confident and comfortable at the same time, I always keep this in mind when I design. I have been even asked to make larger sizes which we are working on. We also offer most pieces in 2 or 4 colors. I find a lot of women are afraid to wear colors, so we give them a choice." LOTUS HOM's collection is a representation of timeless and classical beautiful dressing for today's confident woman.
The cocktail event did not leave out the men. The new men's clothing line BARAQUE is a welcome addition to the boutique space. The line which boasts "Modern Interpretations of the Classics", offers American staples with a stylish update. Pea coats, henleys, blazers, and cardigans are all revamped in Japanese imported fabrics. Cotton, wool, linen, and fleece are used. The idea of going from the office to the weekend, while being both "dapper and dandy" is achievable with the line. BARAQUE offers staple pieces with fine quality. The use of texture and prints give the garments added appeal to the style conscience man.
The trendy Nolita boutique also houses accessory designs of Evelyn Claude. Made of Yupo, a synthetic woven material, the designs use vibrant, laser-cut graphics. Using actual pictures of objects, then manipulated graphically, the jewelry designs brilliantly display well known objects in an artistic way. The use of real gold powder lends the high contrast of the gold against the deep colors used in the designs. Included in the "Art of Japan" art display in the boutique were the Kin-Maki-e collection, a fusion of modern graphics and the ancient Japanese art of Kin-Maki-e. The results are a subtle, yet stunning sparkle, fusing past and present.