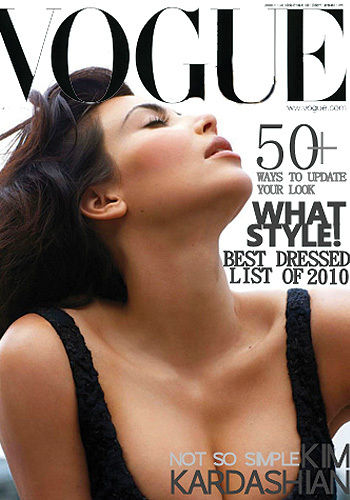 Kim Kardashian has landed the cover of L'Uomo VOGUE's July issue, an Italian men's edition of VOGUE; this is a huge feat for a reality TV star.  Kim gives more insight into her 'reality' life and her hopes and dreams for  the future in an in-depth interview- alongside her Paparazzi themed photo shoot.
She didn't speak much on her new relationship with Kanye West, but she did admit, "Everyone is always watching me, I'm under constant observation, everywhere I go there's a camera following me, in the gym, when I do the shopping, and if I decide to go out without make-up it makes news throughout the world. This is why I don't want to reveal anything about my relationship with Kanye. In the past I suffered a lot because of my honesty, and when it didn't work I was criticized and treated badly: I can only say that now, with him, I'm happy."
For the shoot, she donned a short crop, a huge contrast from her long black tresses. As for the theme she pretty much played herself, an heiress who has transformed into a pop icon.
Check out some of her photos for herself and tell us what you think!
Photo Credit: Vogue.it