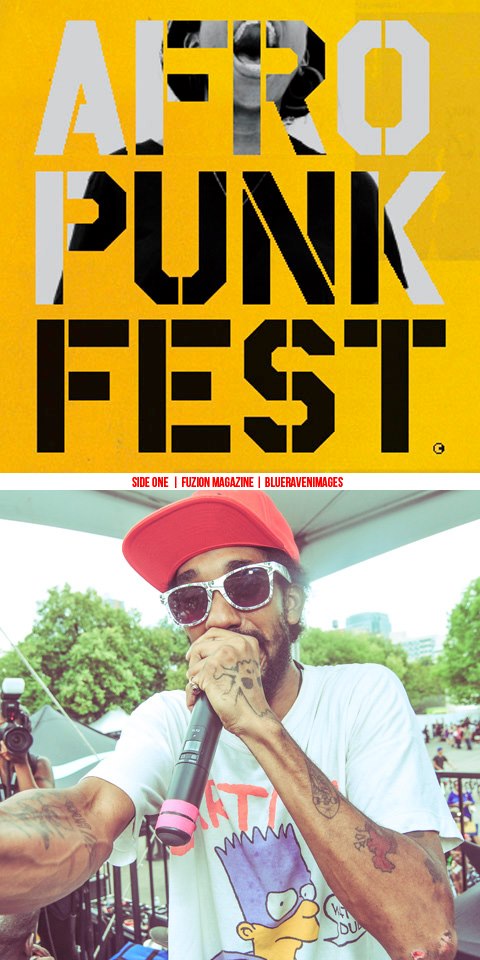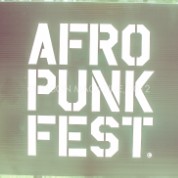 A liberating movement full of individuality. FUZION was on location for a two-day free concert at Commodore Barry Park in Brooklyn, NY. The AfroPunk Fest 2012 span from August 25 thru 26, with a lineup of a variant of genres, artists, and people coming together to have freedom of expression. There was a noteworthy music lineup with Erykah Badu, Gym Class Heroes, Janelle Monae, Oxymorrons, Bad Rabbits, Phony PPL, Ninjasonik and Toro Y Moi. The event overall was far from mundane, creative-type festivity and family friendly, with the support of sponsors promoting up and coming acts and artists.
AfroPunk sponsors included Nike, Vitamin Water, and countless others. Nike also held the Battle For The Streets Skate Competition, the largest competition in NYC – all skate boarders and BMX riders alike. The Department of Transportation also came to support with helmet fittings and handed out free helmets to promote safety precautions. Artists displayed their art on the Art Wall, 15 of the best food trucks in NYC made sure fans were never hungry; AfroPunk also featured local artisans offering their crafty-fashionable creations.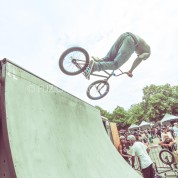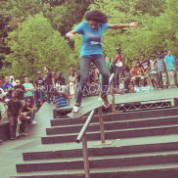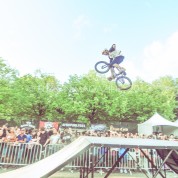 Day 1
Day One of AfroPunk Fest 2012 was beyond spectacular, just downright grandiose. Without a doubt one of the best anticipated concerts of the summer.  The talent was raw, fresh and inspiring, everything you would expect from artists with a hunger and passion for their artistry. Tattoos and piercings were not scarce.
The first performance to jump start the festivities  at the Skate Park was Ninjasonik (below) with Shoot the Lazer, a two-man group along with the occasional entourage full of vigor and a strong following. It was definitely a crunk rap and punk rock feel; the crowd reveled in it. Their performance was very hype including plenty of stage dives, mosh pits, skateboard reps – you name it!
Then enter the GEEKS! The band named winner of the AfroPunk Battle of the Band 2012, rightfully so. The second band FUZION witnessed over at the red stage was the Oxymorrons (pictured below). Dressed in suspenders, one with a bow tie, the other with slightly rolled up pants to show his socks, along with video game memorabilia around their necks; they unquestionably exemplified a new genre of music. The dynamic duo brought a certain charisma, playfulness, and charm  to the stage, the crowd connected with them.
After their bangin' performance, Fuzion Magazine was able to meet with a few of the band-mates backstage to speak with them about their journey. Oddly enough, many performers maintained a humble persona offstage. FUZION sat down with the fellas, front men K.I. and D, brothers born and raised in Queens, NY, along with their drummer,  Matty from Rockland, NY. The band started in 2009 in Queens, NY, with a flair for fun and games; not your average boy band. When asked to describe their band, they defined it as, "a rebellious geek squad happy doing what we do, and having a love for openness and honesty." The band has traveled to many states, performed at colleges, and recently concluded a spring headlining tour with the Gym Class Heroes on May 2012. Now pushing EP's for their geek life fans, they are excited for what the future brings their way. Towards the end of the interview with the Oxymorrons (spelled with two r's), they shared that their favorite thing is "Black Forest gummy bears!!". Who would have thunk it? Ladies, take notes! Make sure to get those gummy bears.
Overall, they have great personalities and make exceptional music. Keep rockin' boys!
The next act to take to the red stage was Cerebral Ballzy (not pictured). This  punk band was from Brooklyn, NY and formed in 2008 with a certain rawness and hardcore background. With lead vocalist Honor Titus at their side, the band is a sure step into the realms of the greats. Among other songs, the band performed  "Insufficient Fare", as we NY'ers could surely identify with and from the aura of the audience, the band had devoted followers. Let's just say all the punk rockers, body alterations, and bloody mosh pits one would imagine.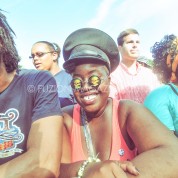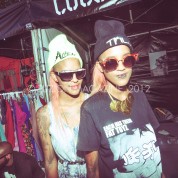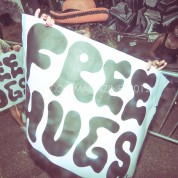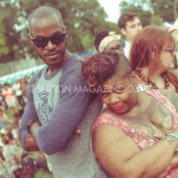 The final show that many avidly waited for was THE main event, Erykah Badu ft. The Cannabinoids (pictured below). Erykah Badu was set to hit the stage at 8:10pm; however, the show began a little before 9pm. In all her glory, Erykah Badu blessed us with her luminescent presence. She wore a royal blue hat, gold grills, pinkish pants, a black leather jacket, and it would not be Ms. Badu if her attire did not make a statement. Additionally, she accessorized with a HUGE gold chain hanging from the front to the back pocket of her pants.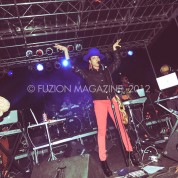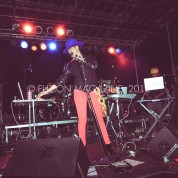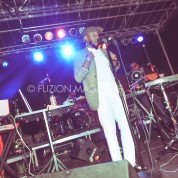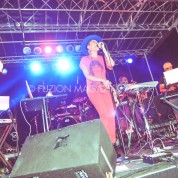 Fuzion Magazine was front and center to capture the moment and so were all of her longtime fans. Including a woman in a wheelchair, who later had to be wheeled out of the crowd by security as she would surely be trampled. Can you blame her? She wanted to get a little Baduizm. To spice up the night, the well-known hip-hop icon and actor MosDef also graced the stage with a few lyrics of his own, making it for an enthralling night. Erykah Badu sang a few of our favorites and one of mines, "Appletree", the third and final single from her Baduizm album. It was everything that I had hoped for, everyone singing along and taking in the moment. After being on-stage for roughly 20-30 minutes, the show was over, as the park had closed its doors; it all ended so prematurely. Nevertheless, Erykah Badu featuring The Cannabinoids was MosDef worth the wait.
Cheers!
On to Day Two of AfroPunk Fest 2012….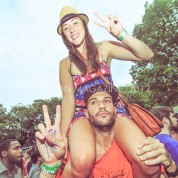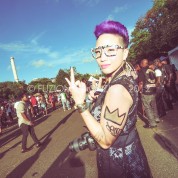 Day 2
 Day Two of AfroPunk Fest 2012 was a different monster. FUZION managed to see Phony PPL (not pictured) perform live over at the green stage. They were a seemingly collective 80's rap group with an R&B semblance, a little jazz and soul. Fuzion Magazine was on the scene and spoke briefly with one of the nine band members after their performance, one of the vocalists who go by the name, "Dyme-A-Duzin".  Phony PPL started in 2008 right here in Brooklyn, NY, made up of nine members looking to stretch the boundaries of music and bring us back to good ol' fashion music. That they did.
FUZION was also there to witness the talents of a band called Bad Rabbits (pictured below), and they were badass! Two words…R&B Funk. Hailing from Boston, MA, the band gave us a taste of a twist to rhythm and blues and we thank them for it. Fredua Boakye, their vocalist certainly kept the crowd interactive, even telling people to waive their hands to feed their ego.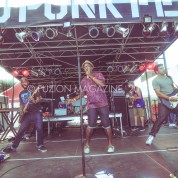 At around 6:30pm, fans unfortunately received an update about the long awaited Gym Class Heroes' show; it would not go on due to an illness in the band. Although many were disappointed, it did not seem to deter the crowd as they continued to gather for the next performance, the talented Janelle Monae. In the interim, fans jammed to Dirty South's own comical DJ E.Z. MO Breezy of Grits & Biscuits. Fuzion Magazine never stops; we mingled with the crowd and happened to strike a conversation with a young man named Eddie, Eddie from Philly (pictured below). He talked about the festival; how he enjoyed himself. He came all the way from Philly to see Cerebral Ballzy, unfortunately for him; he never got the chance to see the band perform as he received an injury to the left arm from a mosh pit gone awry. Eddie broke his arm and rushed out right before the bands performance.
In spite of his adversity, his choice of art illustration was oddly intriguing. After taking part in many subcultures, this freedom of expression made sense to him, he explained. He was humble and softly spoken. In his words, "this is not a trend to me as some may think; I've been like this since I was very young. It is a way to express my art and love for body modification."
While waiting for Janelle Monae to top it off with her blazing performances, the host announced a surprise guest, someone not listed on the schedule. We waited patiently for the mystery person, and then lo and behold, it was Pharell Williams of The Neptunes come to introduce Janelle Monae. The crowd went wild.
Subsequent to the fine introduction and the band's snippet, out came Janelle Monae in her usual clothing style, the tuxedo moniker.  She said on the matter to Honey Magazine "I bathe in it, I swim in it, and I could be buried in it. A tux is such a standard uniform, it's so classy and it's a lifestyle I enjoy. The tux keeps me balanced…" She performed many of her hits and even did a rendition of Jackson 5's "ABC." It was all the way live; the audience went crazy and sang right along.
This experience was simply fabulousness in a liberated movement.
AfroPunk Fest 2012 did not let FUZION down. This year indisputably made up for the festivals cancellation last year, starting in 2003 from something so minute and turning out into such a major event. It was a complete success in everyone's mind. We reveled in the arts, music, food, and sports. What could be better than that? Not a thing.
AfroPunk has captivated us at Fuzion Magazine and made us into a believer of the arts and those who serve as canvases to embody it.
Until next year AfroPunk…
Photography by: Nathan Valentine