The interaction between inspiration, creative energy, and personal drive- that's what it takes to make it to the top in the world of fashion.  After finding inspiration in everything beautiful, BoAime designer Mimi Ledo designed a blouse and a passion was born.
"I think I really needed a creative outlet that allowed me to share the inspirational beauty I experience during my travels. I dabbled with poetry and painting, but they didn't allow me to reach out to people in the same way or apply myself as much in a business sense. Being a designer is the best job in the world, and it keeps me pleasantly busy!" explains the designer. Cameron Diaz and Victoria Justice are just few of the celebrities seen in Ledo's fashion-art- and they're at the top of the fashion-do's list.
Fashion is quite possibly older than written history. To Ledo, it's the bridge from inspiration to expression.  Fashion, when it works, allows us to capture the color of life, and enables us to wrap ourselves in it. Creativity is not necessarily about finding something new but about finding a new way to look at something familiar.'
Oh, and did I mention the best part of Ledo's beautiful inspiration and works? It's green. GREEN, as in 'Organic cotton, linen,  silk, soy, bamboo.' They are soft in terms of feel and touch, allow the skin to breath, are both antibacterial and eco friendly. 'Organic fibers spare the earth; conventional fibers is one of the most toxic crops on the planet, using one quarter of the world's insecticides , the same ones that cause cancer, skin problems and deprive the soil of life.'
In sum:  passion, inspiration, and green. That's just the tip of this organic iceberg.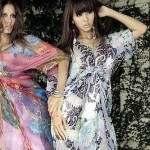 BoAime is also fair trade and helps the women who work in Vietnam  support their families and their dreams.
What else matters the most to Ledo as a fashion designer is to let the clientele know that she was inspired in creating- and she wants her clients to feel like an active component of beauty in this world. How would anyone not want to pass this message on?
One might wonder what else is in the works at Boaime? Well, it's headed  to Australia and Asia very soon, so keep your eyes out for some inspiration and massive shopping hauls.
'Nature is always inspirational and as long as I find beauty in places and people, I will continue to create. BoAime fashion in a way is an extension of me, and I do that by staying connected with the world, the beauty, and the light that I continue to see from within those I meet.  Traveling helps me in that endeavour.'
Well done, Ledo. We can't wait to see where your inspiration takes you next!
For 'premium branded apparel for modern, urbanite and young at heart clients; those that feel the BoAime bounce of life', keep your Google notifications updated for new on when www.boaime.com hits the internet.
To purchase BoAime, visit SHOPSRIBALI.COM