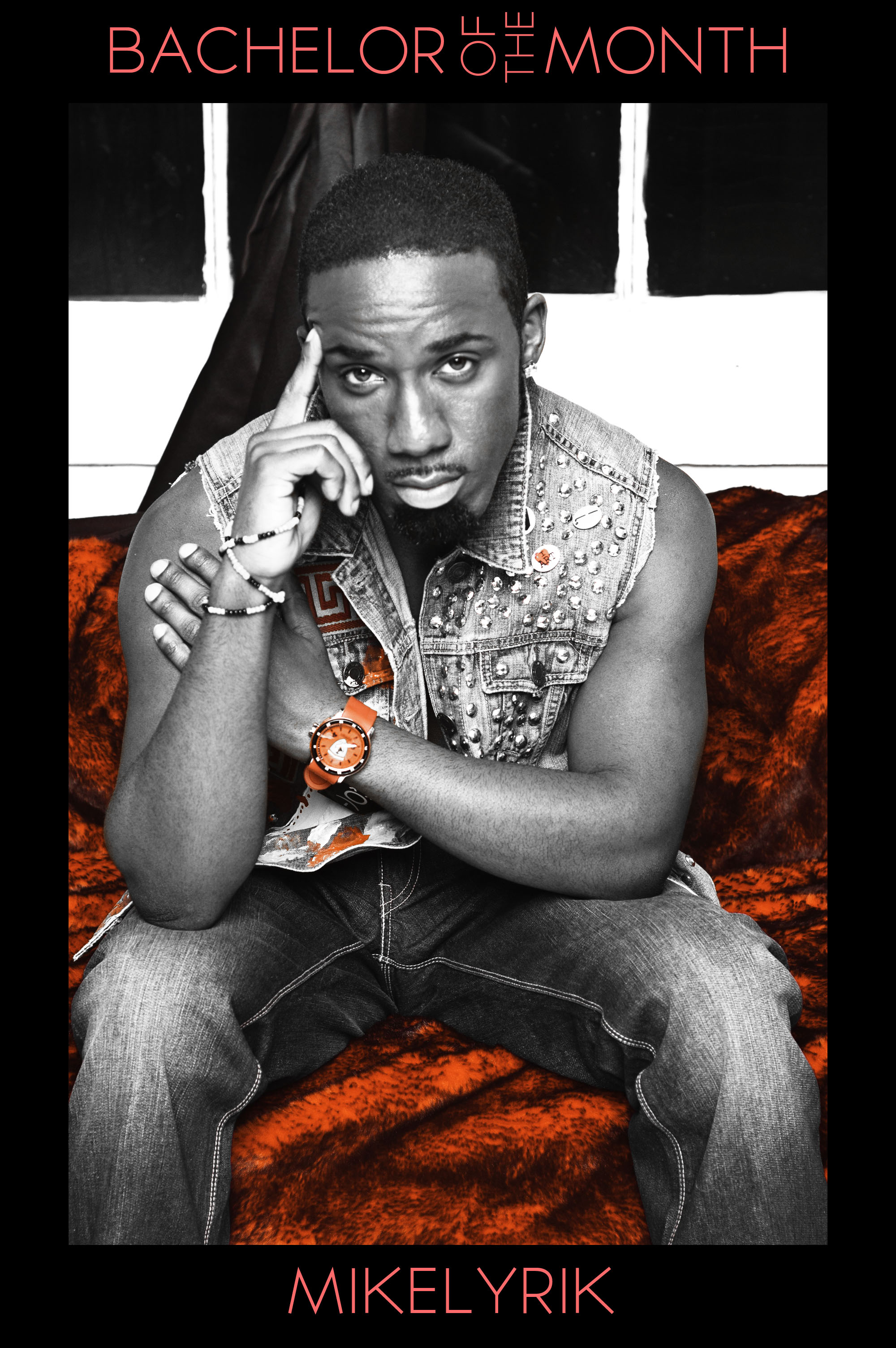 Fuzion Magazine's Bachelor of the Month is in effect, and is set to heat up all of New York with the sexiest, successful bachelors yet. Kicking off the new segment for the month of February 2012 is the strikingly handsome, charming, and talented MikeLyrik. Born October 30th, this Mount Vernon native has always dreamt of being in the spotlight. He discovered his love for music in church and decided to join the choir, where his voice later matured to his liking.
During Middle School, Mike was signed to a modeling agency and was exposed to a whole new world of entertainment. Modeling didn't distract this song bird from his true love: music. Instead, his modeling introduced him to and in-house producer who produced Mike's very first demo. Like a domino effect, one opportunity led to another. Soon, Mike was performing in numerous show cases and talent shows growing with each experience. 
"I was in a singing group in High School & after that I continued recording, writing & performing anywhere I could. Caught the attention of a few labels that proved they weren't right for me at the time but kept grinding & finally released an EP on iTunes . I was blessed to gain a lot of supporters through that and touring with an awesome band overseas as well. Now here I am, still aiming for higher heights but immensely grateful for where I am thus far."
The sun wasn't always shining for Mike. The entertainer had his gloomy days, and expressed his emotions the only way he knew how, in a song.
"It was about my father who was battling cancer at the time. I was nervous to let anyone know how much it was hurting me so I disguised the song to be about a relationship where I was losing someone I loved dearly."
What's Mike's advice for aspiring entertainers?
"I'd say believe in yourself first. If you don't, no one else will. Also, make sure you LOVE what you are doing. It helps so much when things aren't going your way, because there will surely be times when things aren't going your way. Just stay focused and know that there's a spotlight waiting for you after all the hard work."
While music remains Mike's main love, he has a passion for entertainment in general and is constantly exploring other fields of it to see where they will lead. He has some exciting projects in store that include new music and more shows but also other avenues of entertainment.
"As long as the support is there, I'd say keep expecting to be entertained."
MikeLyrik fans can keep up with the Bachelor via twitter, youtube, facebook and reverbnation. Just type ( MikeLyrik ) on any of the outlets listed and brace yourself for sexy. Fuzion mag said it first!
MikeLyrik's Fun Facts:
Zodiac: Scorpio
Perfect date: "I like random dates. Like if we're going to a movie, deciding on it only after we get there: Or checking out a museum to look at things that I know random facts about: I like to set a time to meet for dinner, but then chose the place at the last minute… Random"
Favorite Movie: "I like the Underworld series. The new one is coming out & I'm pretty stoked. I'm kind of a geek when it comes to that stuff."
Celebrity crush: Aaliyah
Collaboration wish list: Pink,Prince, Madonna
History behind the name:  " In High School I was in a group, Lyrik. I came up with the name because of the importance of content when it comes to songs, to me. I spelled it differently just to put a personal touch to it. After the group ended, I was called Lyrik for a while but when I performed at local venues where people already knew me growing up, they'd introduce me as Mike Lyrik, or Michael Lyrik Barnes… Eventually the MikeLyrik name stuck. I liked how it felt. Myself and one of the most important things about what I do in one word, Mikelyrik. "


Credits
Wardrobe stylist- Ashley Rose
Make-up Artist- Nicole Jay
Wardrobe provided by- Swag Star Nation
Photographer- Nathan Valentine