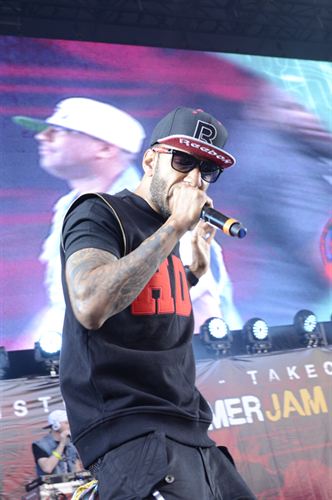 Sprawling crowds were on their feet, from the NY Tri-State area and beyond for Hot 97's Summer Jam, which brought out huge hip-hop names at Met Life Stadium in  NJ. From Rick Ross, T.I., Nas, Lauryn Hill, J. Cole to Big Sean, Wale and much more, the show still went on without Young Money's (YMCMB) Nicki Minaj.
Lil' Wayne, the head of the Young Money label known as @LilTunechi  on Twitter stated, "Young Money ain't doing summer jam."  Minaj took his side on her twitter @NICKIMINAJ  and said "I go above and beyond for my fans. But won't ever go against Wayne's word. What he says, goes."
Although some were not able to make it, a few surprise guests came to lighten things up from  T.I., J.Cole, Neyo to Miguel, Joe Budden and Swizz Beatz.
Check it out: Photo's Courtesy of Hot 97
The Crowd Was Hype
SUMMER JAM PERFORMANCES
T.I.
Joe Budden
Swizz Beatz
J.Cole
Neyo
Miguel
Rick Ross & Maybach Music
Lauryn Hill
Maino
Tyga
Slaughterhouse
Young Jeezy