Grab a Mint!
It is one of the top Fashion Trends for Spring: Mint. Sometimes called Seafoam, Mint  is one of those magical colors that looks good with all hair colors (especially blonde hair) and all skin tones. It's demure yet distinct color is unmistakable. Why else doI love it? The 1968 Mustang was the first car to don this color. How can you not love a color with such accolades? Well this Spring, make it your go-to color whether in apparel or accessories or even nail polish (thank you to ESSIE for their new color Mint Candy Apple).
Here are some of my favorites floating around the internet. Enjoy!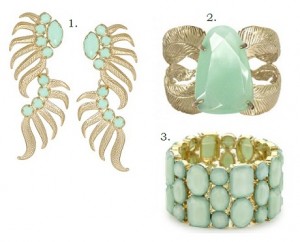 Kendra Scott has a lovely pair of (1.) Elena earrings (gold metal feather with a faceted Chalcedony stones) as well as a (2.) Celeste Cuff bracelet that features gold feathers wrapping around your wrist to meet at a faceted minty fresh Chalcedony stone. For a bolder look, RAIN came out with this fun (3.) Mint Stretch Stone Bracelet with stones in mixed sizes. It is both bold and simple alternative to Kendra Scott's line.
These (4.) SCOOTER Platform Sandals are both fun and fresh in a lovely mint green color that is 100% New York Style Fashion. For a more classic but equally fresh look, slip on a pair of leather mint pumps from (5.) ASOS PAPARAZZI collection. These pumps boast of a 5" metal spike heel (which will make your gams look great by-the-way) and genuine leather (no sweaty feet!). For a more casual shoe, try the (6.) Woven Ballerina pumps from Khloe. Their slight metallic sheen makes the mint shine (literally) in a modern way.
On the purse front, there is a vast array of styles in mint this spring. My personal favorite combines three of this spring's hottest trends:  color block, mint green, and the oversized clutch. The combination of the jade and mint greens gives the (7.) Sally Clutch from Chloé that special look. As it ismade of both textured and patent-leather, it is a definite investment piece. Fora more economical but equally stylish color block look, try the cute (8.) Predictable Mini Bag from Nine West. It is small enough to be worn for business but fun enough to look casual too.
As Spring progresses, you will be seeing Mint popping up in more fashion magazines, stores, and designer clothing lines.  This is one of the easiest Fashion Trends for Spring to incorporate into your wardrobe and add a minty fresh breath to someof last season's florals and blues.