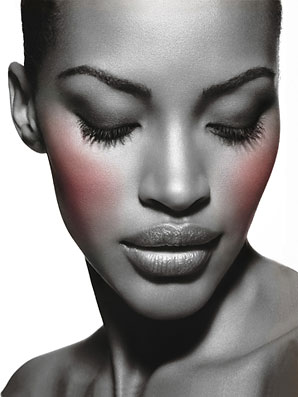 There are so many shades of blush out there. I'll break it down for you so can get that gorgeous glow that you see in magazine!
HOW DO I PICK A COLOR? – Easy, rule of thumb.  For a natural blusher hue, turn your hand upward so your looking at your palm and softly squeeze one of your fingertips so you can see the blood under your skins surface. Try this method while shopping in stores where you can see and sample the actual product. Hold you squeezed finger over different shades to see which one is closet to the color of your blood underneath your skin. This method works for a natural color because blush is supposed to give you that rosy flushed look.
WHICH FORMULA DO I USE? – Blush can be found in different finishes and textures. Loose and pressed powders work for mostly everyone, especially OILY skin. Gels, creams, and sticks work well with DRY to NORMAL skin. OILY skin can use the ones I just mentioned too but if your looking for longer lasting color stick with powders. Blushes come in shimmers and matte. The finishes can be mixed and matched to create different looks. I like to start with a matte shade and finish with a sweep of a shimmer over the high part of my cheek bone for added dimension.