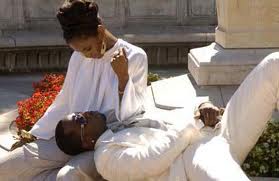 Photo Credit www.ipowerrichmond.com
Are Cassie and Diddy making their way down the aisle? Possibly! For the longest time Diddy has been in search of the one and according to the rumors, his long time on-and-off girlfriend R&B artist Cassie just might be.
Even his babymamma Misa Hylton-Brim was hinting that there's a good chance it could be true. During her interview with Power 99, Misa was hit with questions regarding Diddy and Cassie's relationship. Her response was quite interesting. When hosts of the "Rise and Grind Morning Show" asked "Are you affected by the fact that he's marrying Cassie?" She responded, "No, I love Cassie. I like Cassie for him. She's talented, she's beautiful, and she's really nice to him and to my son. And that's all I can ask for."
If that doesn't give people enough reason to speculate then the fact that Cassie has been spotted rocking an iced out rock on her ring finger confirms that something is definitely up. Remember, Diddy said it himself – "I got it all, but I really need a wife at home," so Cassie just might be the future Mrs. Combs.
written by: Janelle Allen