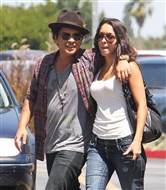 So the cat is officially out the bag. Yes, Bruno Mars and Jessica Caban have been spotted once more! This time on the streets of LA, confirming all rumors of their secret love affair.
About a year ago, the two were seen at a restaurant in New York City and the news set media airways, blogs, and gossip columns on fire. According to sources, the Pop Star was sweetly serenading Jessica over fine dining and sake.
Since then it seems that the chemistry between the two has reached an all time high. Recently, the couple was caught casually strolling down the streets of LA, arm in arm, exposing their affection for one another to the world. The real question is – how much longer did they think they could keep this relationship wrapped under sheets?
Author: Janelle Allen
Check out our cover shoot with Jessica Caban from our March issue!