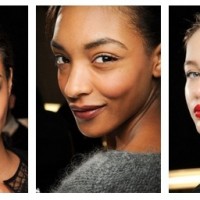 Red lipstick can be very stylish when wore properly. However most girls, including myself, can be intimidated because we don't want to look like a "working" girl, or we feel like the shade just isn't right. Here's the 411: Everyone can wear red, when you find the right undertone that matches your skin tone you'll see how easy it is. Red lips are great to have in your arsenal and will guarantee to have heads turning.
[divider]
First things first, Lets talk textures.  There's matte, which is a smooth non-shiny texture that is great for daytime. Save the high powered lacquered shine for parties and special events. There's also creme which works for both day and night and is smooth and moisturizing.
Secondly, there's 3 different hues of red lipsticks. — true red, orange red, and blue red. The most important factor is knowing your skins undertone. You can be either a yellow undertone, pink undertone, or neutral, which is a even mix of pink and yellow. Look in a mirror and see which color you mostly see in your self, if its difficult to tell then your most likely neutral.
Neutral undertones  should stick with true reds, pink undertones should opt for the blue reds, this will compliment your cool tones. Yellow undertones look best in warm orange-reds or brown- reds.
According to Who What Wear there are 3 lipstick brands that pretty much flatters everyone.
1. Dior Rouge: Dior Replenishing Lipcolor in Red Premeire ($29, sephora.com)
2. MAC Lipstick in Russian Red ( $14.50 maccosmetics.com)
3. Lipstick Queen in Red Sinner ($18, barneys.com)
[divider]
A insider tip to rockin red lips is to line your lips prior to putting your lipstick on. Use either a netural liner that matches the tone of your lips or a red that matchs the color of the lip stick your putting on top. To create that sharp look, clean up the edges with a q-tip with a little makeup remover.  One last tip, lets talk about our teeth. Red can accentuate yellowness, so  pop in a whitening strip or  tray before your ready to hit the town.
Here's a continued list of lipsticks that work for the 3 undertones
Yellow Undertones: NARS Heat Wave ; NARS Shanghai Express ; Vincent Longo Fore-Plush ; Guerlain KissKiss Lipstick Red Strass 521 ; MAC Chili; MAC Fresh Moroccan, Sephora Lip Attitude Chic Ruby ;  L'Oreal Colour Riche Lipcolour Volcanic ; Covergirl TruShine Lip Color Fire Shine ; Maybelline Moisture Extreme Midnight Red; Maybelline Superstay Lipcolor Cherry and Wine
Pink Undertones: NARS Scarlett Empress; Laura Mercier Seduction; Smashbox Stunning; Vincent Longo Dakota Red; Sephora Lip Attitude Chic Class Red 14; Yves Saint Laurent Pure Lipstick Star Red; Chanel Shanghai Red; L'Oreal Colour Riche Lipcolor Sunset Red and Red Rhapsody; Covergirl IncrediFULL Lipcolor Ruby Rush; Maybelline Superstay Lipcolor Raspberry and Ruby; Maybelline Volume XL Seduction Full Bodied Wine
Neutral Undertones: NARS Fire Down Below; NARS Red Lizard; Smashbox Legendary; Spehora 94; Guerlain KissKiss Lipstick Insolence De Rouge 522; Yves Saint Laurent Rouge Pur #13; ck Calvin Klein 142 Eros; Opium Red ; MAC Ruby Woo, Max Factor Vivid Impact and Ms. Right Now and Ms. Right; L'Oreal Colour Riche Lipcolor British Red and Drumbeat Red, Covergirl TruShine Lip Color Valentine Shine; Maybelline Moisture Extreme Royal Red