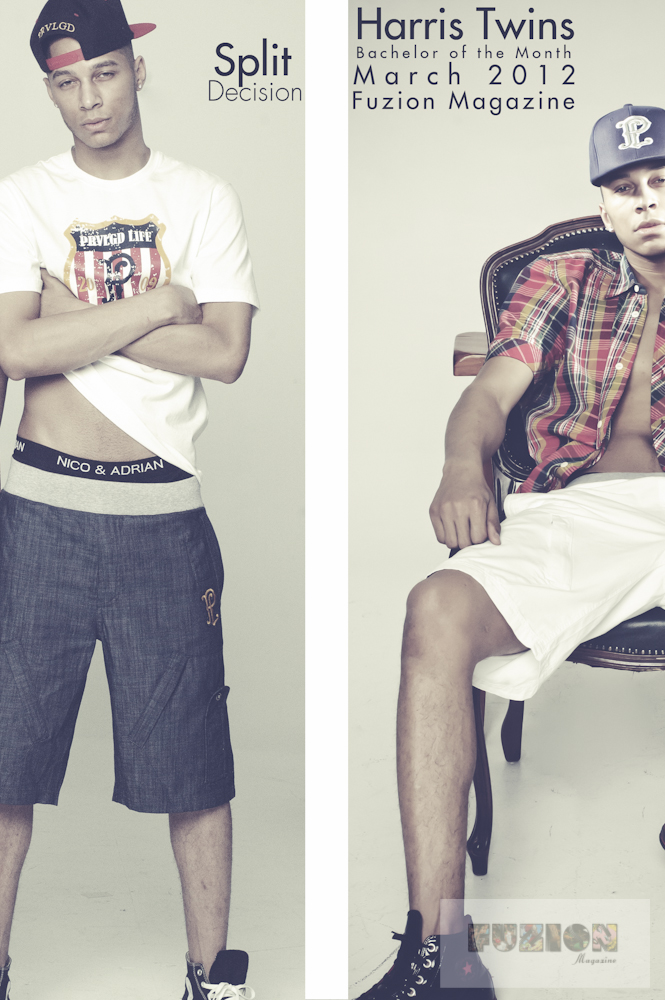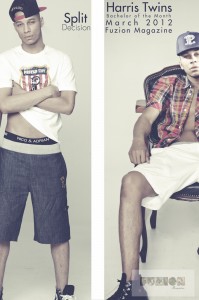 Fuzion Magazine is back with another Bachelor of the Month for March 2012 and this time, we've doubled the fun! The oh-so handsome Harris Twins, Alex and Andrew are the latest dynamic duo to hit the model industry, taking it by storm over the past two years.
From The Midwest to The East Coast, the Harris Twins have stirred up quite a buzz for themselves with their "double look". One would have never guessed their unpopularity growing up in Indiana, however, with one another to lean on for support the twins left their hometown in pursuit of their dreams.
The Harris Twins' debut into the modeling industry, gracing the cover of NV magazine with Michelle Williams (Destiny's Child) not only catapulted them into the spotlight, it confirmed their extraordinary talent.
"Doing that was just crazy because you know I didn't even think I had what it took to even be on the same photo set as her you know; and when the magazine came out and we saw our pictures, you know that's really what kinda got us up there and you know kinda known." –Andrew
There's no denying that these two gentlemen are good looking, and it's evident they know their worth.
"The difference between us and everyone else is that we take pictures that can't nobody else take, really. We make sure that the pictures that we take and the photos, every thing that we do is just, unique. And nobody can copy that. We're twins, we have a different look." –Alex
Their confidence, however, should not be mistaken for cockiness. The two are very grateful for their blessings and opportunities that have presented themselves, which have helped propel them to this point.
"The fact that we're so far ahead and its only been two years for us, we really are happy and blessed. It really is a privilege, that's why I think this clothing line [Privileged Life] really matches everything that we do. Everything we believe in."
Success is near, and the Harris Twins aren't looking for any distractions when it comes to their craft. While they admit that they are looking for ladies, love is the least of their worries.
"Maybe when we're a little older and more established then we can start focusing on more of a girlfriend-material type of girl."
With their hearts dedicated to creating and expanding their brand, the Harris Twins continue to dream big and making their dreams come true.
"Modeling has opened up a lot of doors for us. Pretty soon we'll be branching off to TV and movies."
You can check out and keep up with The Harris Twins via Twitter @Harristwins and their Facebook fanpage!
Photoshoot Credits
Photographer: Nathan Valentine
Designer: Privileged Life