This holiday season spice up the bedroom romance with the following five gifts you can surprise your partner with on that "special" night:
1) Penis Ring: Try to invest in one that has a vibrator attacted to it for your pleasure.  It is typically the most enjoyed sex toy between couples.  It is double the pleasure for you and him!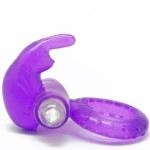 2) Naughty Dice: This is a game where everyone wins. You toss the dice and which ever naughty act comes up you have to perform on your partner. Don't be too embarassed to add on your own twists to these naughty acts.  You are never too old to play games.
3) Flavored Oral Sex Gel:  Apply this gel or solution to your lover and enjoy each other in your favorite flavors.  There are usually a variety of flavors to choose from, such as cherry, strawberry, and grape.
4) Hand Cuffs*:  It is always thrilling for couples to use restraint while watching their lover squirm with pleasure.  They come in all sizes, textures, and colors.  These are and will always be a classic favorite.
5) Candied Nipple Tassels:  These tassels are pure candy for you to munch on as you work your way to the ultimate sweet pleasure.
Get any one of these things for your spectular Valentine's Day.  Let the celebration begin!!!!