Headbands
Headbands are a great way to update your look for summer without breaking the bank. They can also take a day outfit and dress it up for night or vice versa. Always take care to find the right headband for your head, your hair and your features (ie: if you have a small head, a wide chunky headband might overpower your features). And if you are afraid of hurting your head with tight headbands, you're in luck this season as stretchy elastic bands are all over the stores in every shape color and style.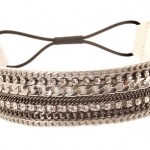 Glam
This lux headband from L. Erickson is made with genuine leather in white (or black) and is glammed up with metal chains and rhinestones. This style looks great in summer whether for work or play. It is a great choice for a key getaway piece to reduce the amount of hair products you need to pack.
This modern headband from Ban.do does double duty as a way of dressing up your look and keeping your hair in check. Best of all, the band comes in white, cream, and black so it blends with your hair for a sleek modern look.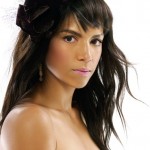 Feathers
This Velvet Flower and Feather Headband from Leah C. Couture Millinery in New York will turn the heads of citybirds young and old. It's unique mix of feathers and suede is ideal for casual or dressy summer days. (photographed by: Jenny Rischer; Veronica Webb styled by: Billie Causiestko)
While not technically a headband, this hair clip from Portobello has the merits to be included. Its bold cobalt color and pretty fan design give it attitude and style to stand out from the crowd.
Leather
This suede Buckle Headband from Jennifer Behr comes in Orange (Summer's hottest color) which looks great on most hair colors and skin types. This casual headband will keep tresses in line while keeping you stylish in summer.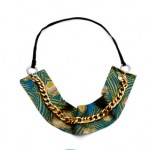 Fabric
Dauphine's of New York hit a homerun with their Liberty of London Fabric Headbands. These soft cotton bands are decorated with chain links and will keep your hair secured all day without any discomfort. The best part:  this stylish peacock print is accented by a pretty gold chain on top. It epitomizes the casual elegance of this season.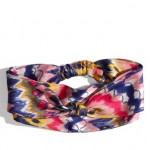 This turban-esque Ikat headwrap from Cara Accessories can be worn at the top of the crown like a traditional headband, or at the hairline for the turban look that has been so popular this season.