It goes to show that classics never grow old. Jim Henson is back with another highly anticipated Muppet movie, The Muppets. The Muppets are on a great adventure for their claim back to fame in this family comedy featuring Jason Segel (Forgetting Sarah Marshall) and, Academy Award nominee, Amy Adams (Doubt). And let's not forget the stars of the movie, The Muppets.
On their journey to fame, The Muppets tour the world while rehearsing for their numbers with the support of their fans. Other cast members in this Disney movie include Katy Perry, Zach Galifianakis, Selena Gomez, Mila Kunis, Neil Patrick Harris and Whoopi Goldberg. It is no wonder why members from every generation would want to watch this movie. The Muppets should be the first go-see for this holiday season.
While you are waiting to purchase the ticket for this box-office adventure, do not forget to wear a color from The Muppets OPI collection. It is just the thing to make anyone go "wocka wocka". The twelve color collection includes six dazzling glitter nail polishes and six great solid colors for the holiday season.
They are (from left to right):
Animalistic
Meep-Meep-Meep
Wocka Wocka!
Pepe's Purple Passion
Designer, de Better!
Warm and Fozzie
Rainbow Connection
Excuse Moi
Gone Gonzo!
Fresh Frog of Bel Air
Divne Swine
Getting Miss Piggy With It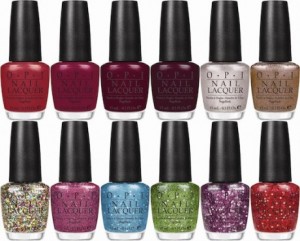 Don't forget your top coat! See you at the movies November 23rd!