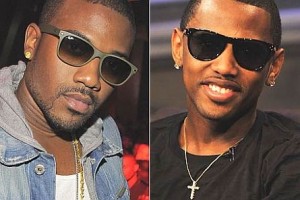 According to Necolebitchie.com and a recording on Power 105.1  Fab and Ray had a fist fight. But here's the kicker, Ray J said that he punched Fab in the face and ran away. Fab and several other twitter witnesses saw Fab get punched, but he finished Ray J off.  Ray J confronted Fab about the jokes he made on twitter after he was aired on HBO singing "One Wish" with Floyd. Fab says it was a joke, but Ray J didn't think so.
 Here are the tweets, this is where it all began according to Ray J.
FAB

N*gga Ray J doin a concert in his living room… Lmaoooooo

Nah but Floyd saying we havin a concert in my living room & the camera cuts to Ray J singing "One Wish" on the piano had me in tears!!

Get it..? Ray J concert in the living room!! *Lil Wayne voice*

Jus ran into my n*gga @RayJ at @iamdiddy dinner.. He told me & @KevinHart4real that it was a f*cked up edit & b*tches was there!!

Kevin Hart:

Yo I just talked 2 my n*gga @rayj its confirmed…….Floyd asked him 2 sing "one wish" @rayj didn't want 2 do it……

@rayj told me that he did 5 songs that night and that's the one that "HBO" choose…I believe him….I am now his friend again!

All jokes were aside when these tweets went up by one of Ray J's homeboys:

@myfabolouslife @Kevinhart4real check dis out keep playn with the homie @RayJ u b*tch ass niggas ant b able 2 move around on PIRU!

@myfabolouslife matter fact where u n*ggas at in Vegas we holla face 2 face u on the west right now we pull up if u ain't liking my words!

@myfabolouslife @RayJ don't holla at them n*ggas hit me on the line we on our way that way F*ck that n*gga he played us close

@myfabolouslife u don't even touch da brooklyn streets f*ck make u think u gone disrespect in my streets! @RayJ I seen that sh*t blood said
Here are the twitter reports from the witnesses that saw the fight between the two in Vegas:
JayDubb310: just saw Ray J and Fabolous throw blows backstage at the concert in Vegas!!!!!

ExoticMaya: So @RayJ just punched @myfabolouslife about some dumb stuff but Fab whooped his ass backstage …

ExoticMaya: And so now @RayJ is being escorted out with 4 cops … I had to leave out of that drama

ExoticMaya: And for the chicks spreading the rumor that @50cent hit @myfabolouslife in the bathroom… Cut it out. Y'all accusing the wrong folk

ExoticMaya: So me & @HollywoodKesan was laughing the whole time at @50cent instigating … @KevinHart4real looked confused as hell

ExoticMaya: So I videotaped it but security made everyone delete footage … I should of hid my phone & dipped off

WillSanders: @myfabolouslife just beat up @RayJ at palms its crackin!!!!

WillSanders: No he just swung 1st RT @origtipdrill: Wait ray j beat up. Fabulous tonight??

WillSanders: Yo @Rayj a G for swingin 1st but @myfabolouslife got the best of him
Who is telling the truth? There are no video recordings of the actual fight.  All we have is the heresay amongst Fab, Ray J. , and twitter. I guess we may never know what really went down.