When the summer heat sets in, crank it up with accessories inspired by the tropics and its inhabitants. While one of winter's must-have accessories was faux leopard animal furs and prints, these are lightened up for Spring and Summer 2011. They are now chiffon and fuzed with watercolor floral/tropical prints that evoke the lighter, feminine side of wild.
Shoes
These shoes from Go Jane incorporates the light-weight cork wedge heels of this season with a light satin leopard wrap design.
Or for a dressier more daring look, try these sky-high Snakeskin Open-Toe Clogs from Dior. The darker wood sole give it an air of sophistication while the snake pattern and details make it edgy enough for a hot night.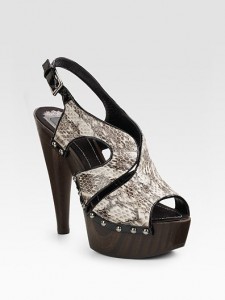 If you are looking for something a little more understated, play up the nude trend with a strappy sandal like this one from Boston Proper. These can be dressed up. They can be dressed down. (They also lengthen your legs!)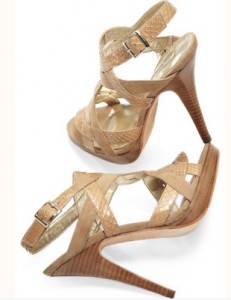 Handbags
Handbags this season can be summed up in one word: Fun. This is not the year of the black or brown bag. They are still seasonal staples, but this year bags are stepping out in a multitude of colors, shapes, sizes and embellishments. They can go from work to weekend and from day to night. While bags this season have lots of character, they can also become wardrobe staples when you keep your wardrobe color palette in mind.
People who say animal prints are for winter only, obviously never saw this giraffe beach tote from Cappelli. And because it is a neutral tone, it can go from beach to boardwalk.
For a fiercer side to wild, Lauren Merkin came out with this Python-Embossed bag. It can be switched from a crossbody bag to a large clutch in seconds. The bright colors of this leather bag will surely attract attention.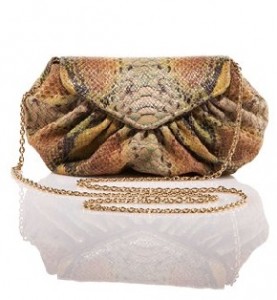 This ostrich satchel bag in Buttercup from Nina Raye Is a more subtle way to say "come on a safari with me." GO on a safari of your own and check out some great animal prints to heat up your summer.
Accessories:
If you want a quick pick me up for a classic outfit without investing in heels or bags, small accessories are the way to go for this trend. Best of all, these items are available for  under $100.
Angels and Divas makes feather earrings like no one else in the industry. These fab pink and orange earring will stand out and breathe new life into one of your "go to" outfits. For a day-friendly and polished look, try her Pretty in Pink Puff feather earrings.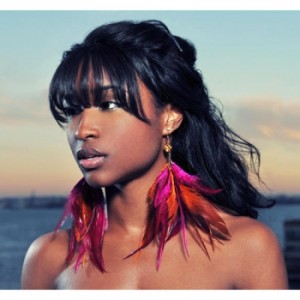 Bebe just came out with a black and grey Snake Ring Necklace, which can do double duty and be worn for day or night without weighing you down (as some statement necklaces do).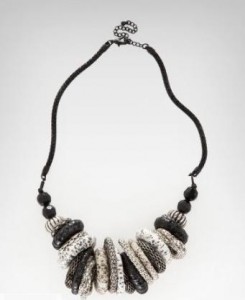 Exotic and elegant, this 8 piece set in faux green snakeskin and embossed bangle set in gold from Zora is a great find. You can also mix it with wood bangles for a bolder mixed media look.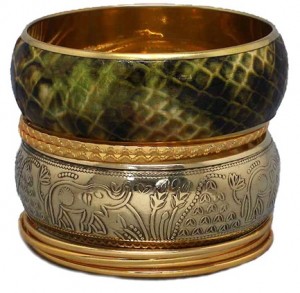 Scarves keep you warm in the winter and help you look cool in summer. This scarf from Sir Alistair Rai in red animal print with a pretty fringe trim can be worn around the neck or on the head as a wrap.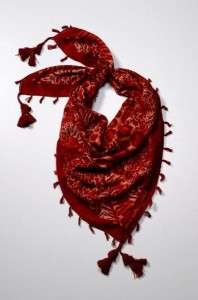 For those of you who love feathers, feather hair extensions are an easy and fun way to add dimension and spunk to your hair for the summer. The best part: They are easy to do and look great in all hair types and colors. This set from Feather Boutique in Diva's Delight Summer (yellow, orange, red, pink, purple, and gray), which comes with easy to follow directions and tools. Not sure if you want to commit to the feather craze? Try the look out with clip-in extensions.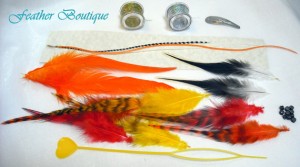 Whatever your preference, let these accessories bring out your inner jungle diva. You'll be glad you did.