Ciara vs. Eva Who Wore the "Storm" best
Storm is a very popular costume during Halloween. Eva Marcille dressed as Storm during her birthday/Halloween Bash last week in L.A. and Ciara dressed as Storm at her Birthday Bash last year in Vegas. Who do ou think owned the Look?
I think they both look quite awesome.
Ciara as storm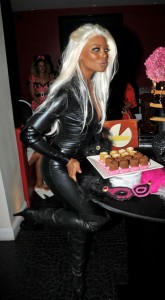 Eva as storm
(source: necolebitchie.com)