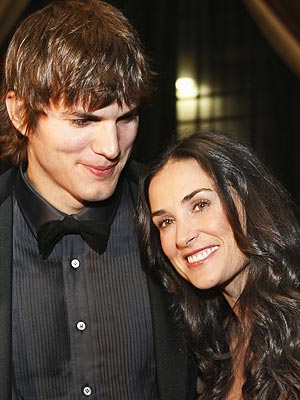 People in Hollywood have been whispering about Ashton's cheating ways for some time now. It seemed like every  other week there was a story of him being seen with a different jump-off. It looks like Demi can't take it anymore because word on the street is that she has filed for divorce from her husband of six years.
According to an exclusive report in Star Magazine, the May to December marriage is over because of Kutcher's and infidelities the couple have been living apart for some time. Instead of celebrating his sixth wedding anniversary (which was on September 24), the new star of Two and A Half Men spent last Friday flirting with scantily-clad women at Fluxx nightclub in San Diego, the new issue of Star Magazine exclusively reveals, where he looked nothing like a happily-married man. The scandal also comes as Star magazine hits newsstands with a sensational report, revealing the pair's marriage is "officially over" as a result of Kutcher's cheating. "It was definitely a long time coming, but they're finally done for good," an insider exclusively told Star Magazine. "Ashton was a serial cheater, and Demi just couldn't take it anymore. She didn't deserve to live that way. It's a painful time for Demi." After struggling for years to overcome the pressures of their 15 year age difference, Demi, 48, and Ashton, 33, are finally calling it quits, and Star Magazine has the real story behind their crumbling marriage after the weakened bonds holding them together snapped once and for all during the past week.  – RadarOnline
A 23-year-old from San Diego has also come out and said that she had  a fling with the Two and a Half Men star very recently. This is going to be a mess.